close this to read article
Problem Statement
In my campaign report, the conversions recorded are higher than the total number of page visits.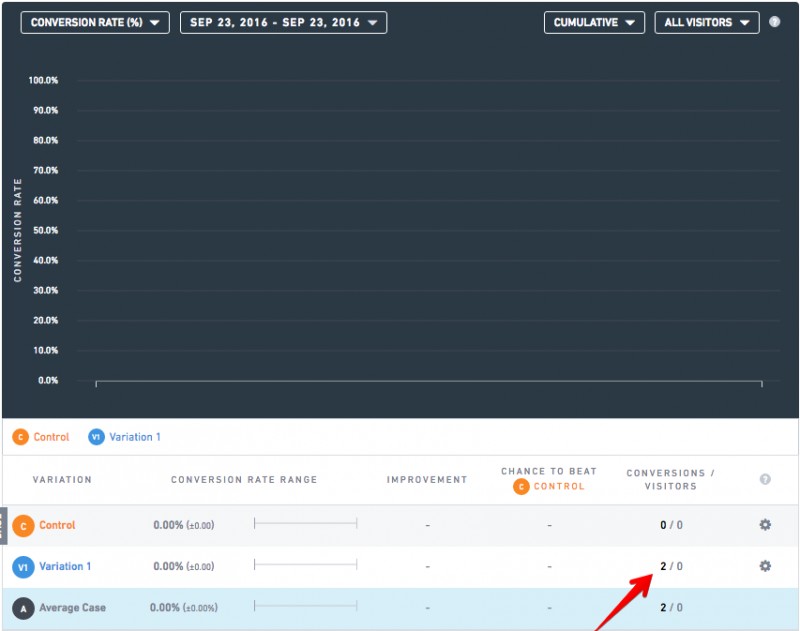 Resolution Steps
If campaign data was flushed
When you flush data from an existing campaign or test, visitors who are already part of the campaign have VWO cookies stored in their browsers. As a result, these visitors are not tracked again and are served the same variation.
However, if the visitors convert during their second visit, VWO records a conversion. In other words, the reports will not record the second visit but will record the conversion this time.
For example, consider that a visitor became part of your campaign (but did not convert) before you flushed the campaign data. The same visitor returns to the same campaign and happens to convert this time. This time, VWO records a conversion but not the visit, because the VWO campaign cookies already exist in the browser. Therefore, you may see a report that displays visitor count as 0 and conversion as 1.
TIP:
As a best practice, you should
clone the campaign
first and then make changes to the cloned campaign. Every cloned campaign results in a new ID and fresh cookies, which ensures that the previously stored cookies in the visitor browser do not create any conflict.
If you used offline tracking
If you use Offline Tracking, which is not based on cookies, the conversion goal will fire every time the goal URL is visited, or a conversion event takes place. There are chances that multiple conversions are recorded for the same visitor.
NOTE: If your workspace is enabled with Data360, you will be able to use Metrics instead of Goals for tracking standard and custom events on your website. However, if you are encountering issues like these with Metrics, the concepts explained in this article will apply to you too.