The VWO Goals dashboard enables you to manage and track the progress of all your goals. To access the Goals dashboard, go to INSIGHTS > Goals.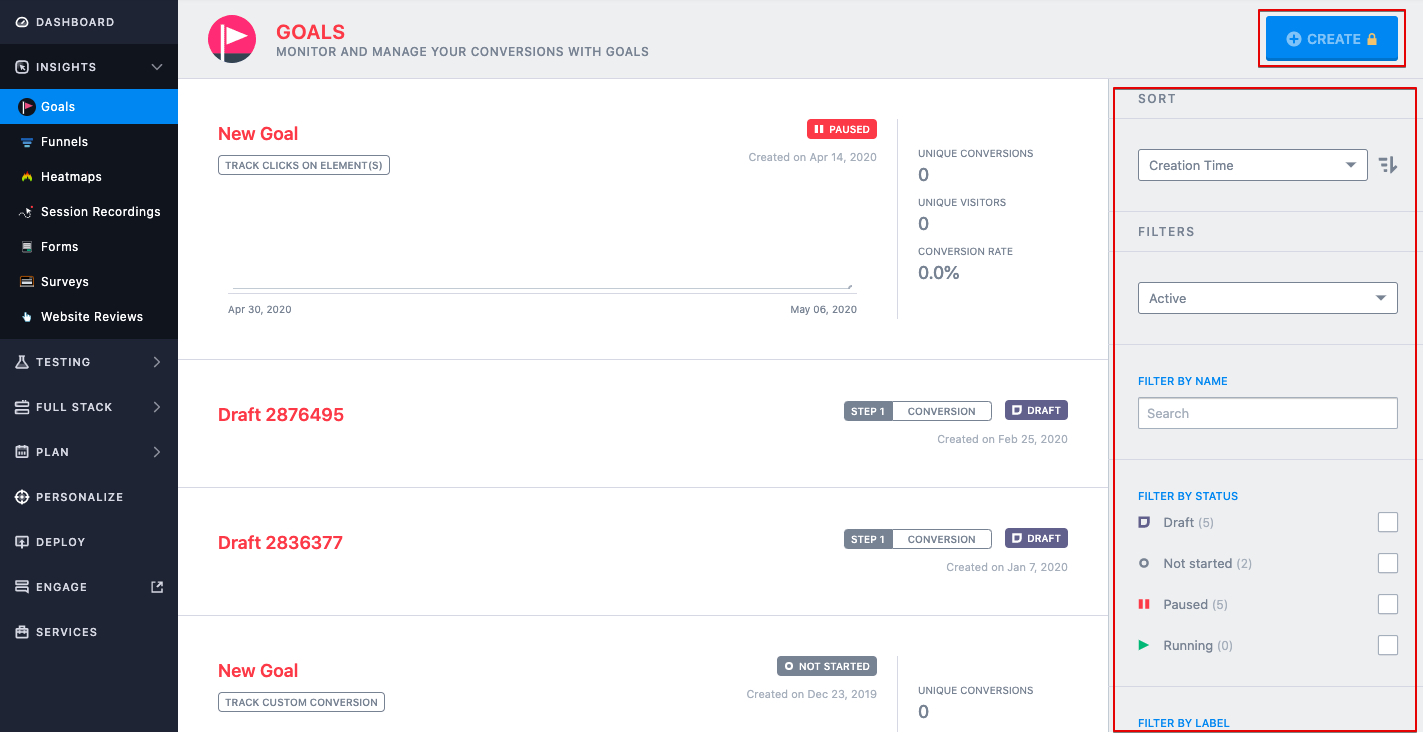 Using the Goals dashboard, you can typically do the following:
Stick (Pin) your favorite goals

: You can pin the most important or frequented goals to the dashboard so they remain at the top of the list. This allows you to access the most important goals without having to browse through the list of all goals.




Filter Goals

: You can filter Goals based on their status or labels you have assigned to the goals while creating.

By Goal state (Active, Archived, and Trashed)

By Name

By Label

By State (Not Started, Paused, and Running)




Create Goals

: Click on the

CREATE button on the upper right corner of the screen. To learn about how to create new goals, refer to How to Create a Goal in VWO Insights?

Working with Goal Configurations
The goals dashboard shows all the goals that you have created in the INSIGHTS > Goals page. To edit or delete a goal, select the goal from the list of goals, and navigate to the SETTINGS tab. The settings tab has the following two options:
Using the

AUDIENCE

section, you can edit the Audience URL.

Using the

CONVERSION

section, you can edit the Conversion URLs and the segmentation conditions.

Some More Options
There are some more options that you have for your goals. To access them, click the ellipses icon present in the panel on the top right. The ellipses menus have the following options:
Email

: Use this option to email links for accessing the goal to other collaborators.

Print

: Take a print out of the goal reports.

Clone

: Replicate the goal when you have to create another similar goal. In situations where you need minimal changes to a goal, you can simply clone the goal and make the required changes to save time and effort. The cloned goal will have a new ID.

Archive

: Remove the goal from the dashboard list but does not delete the goal. It will continue to exist but will not clutter your Goals dashboard and you can easily access it in the future if needed.

Trash

: Remove the goal and move it to the temporary storage. Campaign data will be removed per your retention policy.

Flush Data

: Clear all data collected for the goal reports. You can use this feature to make changes to an existing goal that already has some data.