close this to read article
You can download VWO test reports and share them with your colleagues or send them as an attachment in emails. You can download the reports in .csv format or print them directly from the application interface.
Log in to your VWO dashboard, and select the test you want to download the report for.
Click the vertical ellipsis icon (⋮) and choose the Email, Download, or Print option on the Summary page.
You can download both Summary and Detailed reports for the test in .csv format to view the aggregate data or day-wise report. Learn more about the Summary and Detailed reports in the next section.
NOTE: The downloaded reports contain the entire set of data collected during the test and do not apply segmentation or other filter options you have set.
Summary vs. Detailed Report
A test report(CSV Format) in VWO stores the data gathered by your test campaign over time. When you download a test report, VWO gives you two options: Summary and Detailed.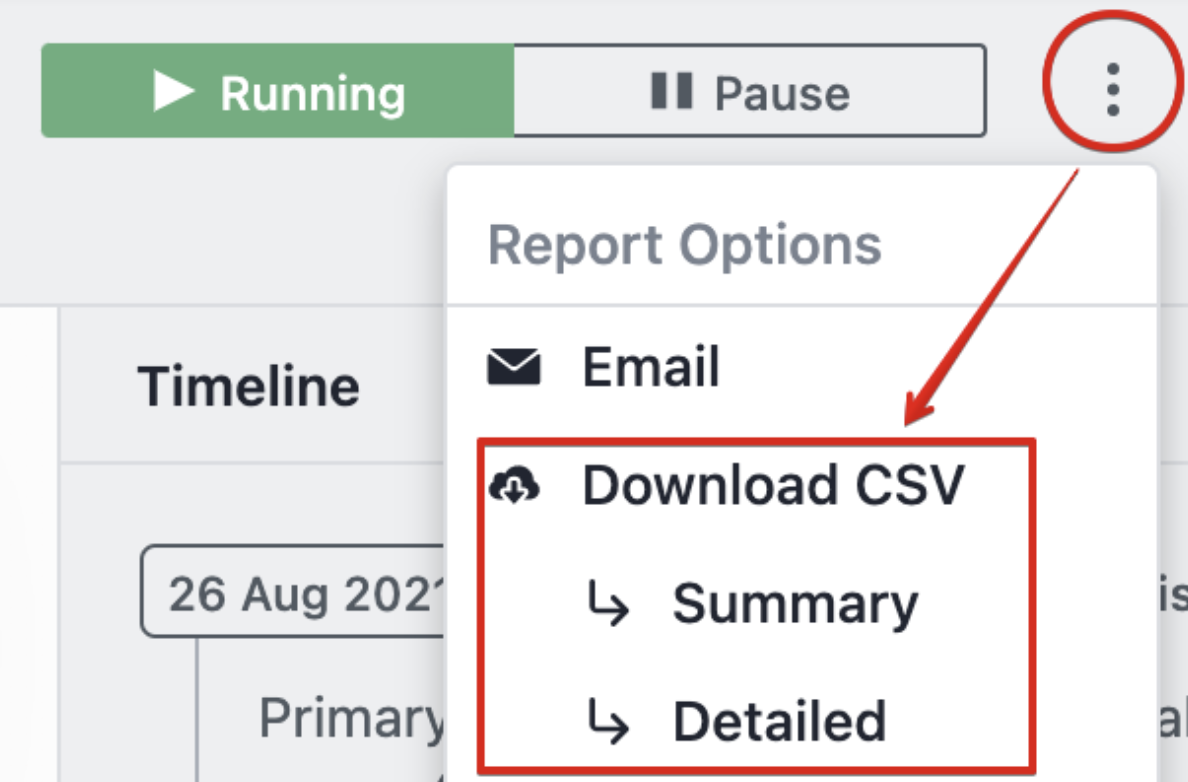 Let's take a closer look to see how they differ from one another.
At times, you may want to view high-level information about your tests, such as the number of visitors who participated in the test and triggered the corresponding conversions. On the other hand, you might want to view detailed information about your visitors like- Location, Traffic Source, Conversion Time, Referring URL, etc. That's where the difference between detailed and summary reports comes into play.
We recommend downloading the Summary report to see high-level information about your test data and the Detailed report for more detailed information.
Here are the differences between the two reporting viewpoints, as well as how you might use each to find the data you seek:
Summary Report
Displays the high-level information about your test data in two sections: Aggregate and Daywise data.
The Aggregate data section displays the following for each of the goals set up in the campaign: Variation Name, Chance To Beat Base, Chance To Beat All, Relative Improvement, Visitors, Conversions.
The Daywise data section displays the following information corresponding to a variation for each goal: number of visitors, conversions, and the conversion rate.
Detailed Report
Displays in-depth information at the individual visitor level(non-identifiable) about test data.
The report displays the following information corresponding to the visitors who became the part of the campaign: Query Parameters, IP, Browser, Browser Version, Device Type, Device, OS, OS Version, User-Agent, Traffic Source, Combination Id, Converted, Goal Id, Conversion Time, Returning Visitor, Hit Time, User Language, URL, Referring URL, City, Region, Country, Custom Dimension, Goal Converted.


NOTE: If the Location setting is disabled and the IP Addresses setting is set to Do not store IP address at all, the fields corresponding to location and IP will not appear in the report.