close this to read article
Integrating PrestaShop with VWO allows you to create and run VWO campaigns with your PrestaShop website. The end-to-end process of integrating PrestaShop with VWO involves the following steps:
Downloading the plug-in
Downloading the Plug-In
Download the VWO-Prestashop plug-in here.
Adding the Plug-In to your Website
Sign in to your PrestaShop dashboard using your admin account credentials.
Click Add a new module.
On the List of Modules screen, select Choose a file and then select the visualwebsiteoptimizer.zip file.
Click Install to install the VWO plug-in.
On the next screen, click Proceed with the Installation to set up the VWO integration module.
Configuring the Plug-In
On the Configure screen, enter the configuration details.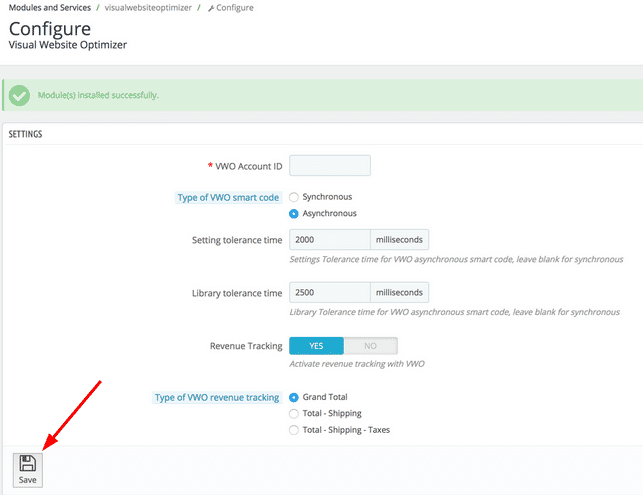 VWO Account ID: Enter your VWO account ID.


INFO:

Your VWO account ID is present in the panel at the top of the VWO app.

Type of VWO SmartCode: Select the code type you are using. To learn more about VWO code types, click here.
Setting tolerance time: Retain the default value.
Library tolerance time: Retain the default value.
Revenue tracking: To activate, select Yes, or to deactivate, select No. By default, Type of VWO revenue tracking is set to Grand Total.
Congratulations! You have successfully integrated VWO with your PrestaShop website. You can now go ahead and create campaigns on your website.