The SmartCode Checker in VWO allows you to check whether the SmartCode is installed on the webpage(s) where you want your campaigns to run or visitors to be tracked. To do this, go to the SMARTCODE section in VWO settings, and in the SMARTCODE CHECKER field, enter the URL of the webpage where you want to verify the SmartCode installation.
NOTE: 

As of now, you can check one URL at a time in VWO SmartCode Checker.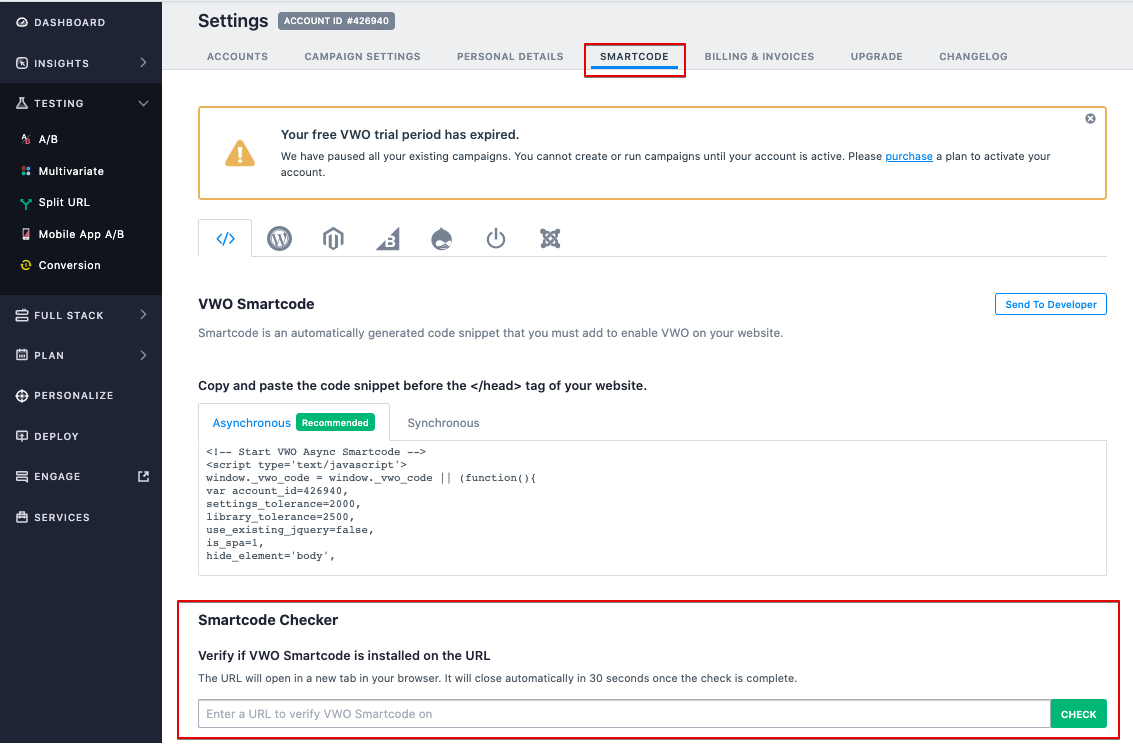 Procedure
Login to your VWO account.

Go to

Settings

>

SMARTCODE

.

To verify if VWO SmartCode is installed on the URL, enter the URL in the

SMARTCODE CHECKER

field and click

CHECK

.
How Does SmartCode Checker Work?
As soon you enter the URL in the SmartCode Checker field and click the CHECK button, the URL opens in a new tab and VWO starts to detect if the SmartCode is installed.
As of now, the timeout interval to detect this is kept at 30 seconds, i.e., if the SmartCode gets executed before 30 seconds, the tab will close right away and the success message will be displayed. If not, the tab will close after 30 seconds and this could mean that either the SmartCode is not installed, or if it is, it did not execute within 30 seconds.
The SmartCode installation on your website is checked based on the following parameters:
If account_id Matches

Here, the account_id from which the SmartCode is installed on the URL corresponds to the one you are checking from. In such a scenario, a success message is displayed as- "SmartCode is correctly installed at this URL."


For example,

in the SmartCode checker field, you enter

https://example.com/

and your account_id is 201. If VWO detects that the SmartCode installed on the URL is of the same account_id, then a success message is displayed as "SmartCode is correctly installed at this URL."





If account_id Doesn't Match

Here, the account_id from which the SmartCode is installed on the URL doesn't match the one you are checking from. In such a scenario, a message is displayed as- "The SmartCode of a different account with ID: <id_value> is installed on the provided URL."



For example,

in the SmartCode checker field, you enter

https://example.com/

and your account_id is 201. If VWO detects that the SmartCode installed on the URL is of the account_id 101, then a message is displayed as "The SmartCode of a different account with ID: 101 is installed on the provided URL."





If The Data is Not Received Within 30 Seconds

VWO typically waits for a maximum of 30 seconds to detect the installation of SmartCode on the URL specified by you. If VWO is unable to receive data from the URL in 30 seconds, the tab will get closed and a message is displayed as: "We waited for 30 seconds but could not verify that the SmartCode is installed on <

URL

>. This could mean that the SmartCode is not installed, or if it is, it did not execute within 30 seconds."



For example,

if the URL you entered in the SmartCode checker field is

https://example.com/

but VWO is unable to detect the SmartCode installation on this URL, then a message is displayed as: "We waited for 30 seconds but could not verify that the SmartCode is installed on

https://example.com/

. This could mean that the SmartCode is not installed, or if it is, it did not execute within 30 seconds."





If URL redirected

VWO typically checks if the URL you entered in the SmartCode Checker field gets redirected to a different URL when opened in the new tab. There could be two possible situations here:
a. If the account_id matches
If the URL you entered redirects to a different webpage and VWO detects that the account_id from which the SmartCode is installed on the redirected URL corresponds to the one you are checking from. In such a scenario, a success message is displayed as- "You opened <URL1> but it got redirected to <URL2>. VWO has verified that SmartCode is installed correctly on <URL2>"

For example, in the SmartCode checker field, you enter https://example.com/ and it redirects to https://example.com/1/. If VWO detects that the SmartCode installed on the URL is of the same account_id, then a success message is displayed as "You opened https://example.com/ but it got redirected to https://example.com/1/. VWO has verified that SmartCode is installed correctly on https://example.com/1/."

b. If the account_id doesn't match
If the URL you entered redirects to a different webpage and VWO detects that the account_id from which the SmartCode is installed on the redirected URL doesn't match to the one you are checking from. In such a scenario, a message is displayed as- "You entered <URL1>but it got redirected to <URL2>. The SmartCode of a different account with ID: <id-vlaue> is installed on the <URL2>".

For example, in the SmartCode checker field, you enter https://example.com/ and your account_id is 201. Now, when you click the CHECK button, the URL redirects to https://example.com/1/ wherein VWO detects that the SmartCode installed on the redirected URL is of the account_id 101, then a message is displayed as "You entered https://example.com but it got redirected to https://example.com/1/. The SmartCode of a different account with ID: 101 is installed on the https://example.com/1/"
c. If VWO SmartCode is not found
If the URL you entered redirects to a different webpage and VWO SmartCode is not found on this page, then VWO will wait for a maximum of 30 seconds and after this, the tab will get closed and a message is displayed as: "You entered <URL1> but it got redirected to <URL2>. We waited for 30 seconds but could not verify that the SmartCode is installed on <URL2>. This could mean that the SmartCode is not installed, or if it is, it did not execute within 30 seconds."

For example, in the SmartCode checker field, you enter https://example.com/ and it redirects to https://example.com/1/ but VWO is unable to detect the SmartCode installation on https://example.com/1/, then a message is displayed as: "You entered https://example.com but it got redirected to https://example.com/1/. We waited for 30 seconds but could not verify that the SmartCode is installed on https://example.com/1/. This could mean that the SmartCode is not installed, or if it is, it did not execute within 30 seconds."