close this to read article
Integrating Miva with VWO allows you to run A/B testing campaigns on your Miva merchant website using VWO. The end-to-end process of integrating Miva with VWO involves the following steps:
Adding VWO SmartCode
Adding VWO SmartCode
Sign in to your Miva account for the webstore and select User Interface under Menu.
On the User Interface page, select the Settings tab.
Paste your VWO SmartCode in the Head Tag Content field. To learn how to access your VWO SmartCode, click here.


NOTE:

To check if you have correctly installed the SmartCode on your webpage, enter the URL in the SmartCode Checker in the

Settings

>

SmartCode

section of your VWO Account. See

SmartCode Checker in VWO to know what different results mean.




INFO: Your VWO account ID is present in the panel at the top of the VWO app.

To save changes, click Update.
Setting Up Revenue Tracking
Sign in to the administrator dashboard of your Miva account.
Select User Interface and go to the Pages tab.
On the Pages tab, locate the Invoice Page item. You can also search in the right corner by typing INVC.
To edit the page, click the left hover button (indicated in the figure below).
In the Edit Page window, paste the following code snippet. You must paste the script above the </mvt: item> tag.
<script type="text/javascript">
     var _vis_opt_revenue = window.Order[2];
     window._vis_opt_queue = window._vis_opt_queue || [];
     window._vis_opt_queue.push(function() {
         _vis_opt_revenue_conversion(_vis_opt_revenue);
     });
 </script>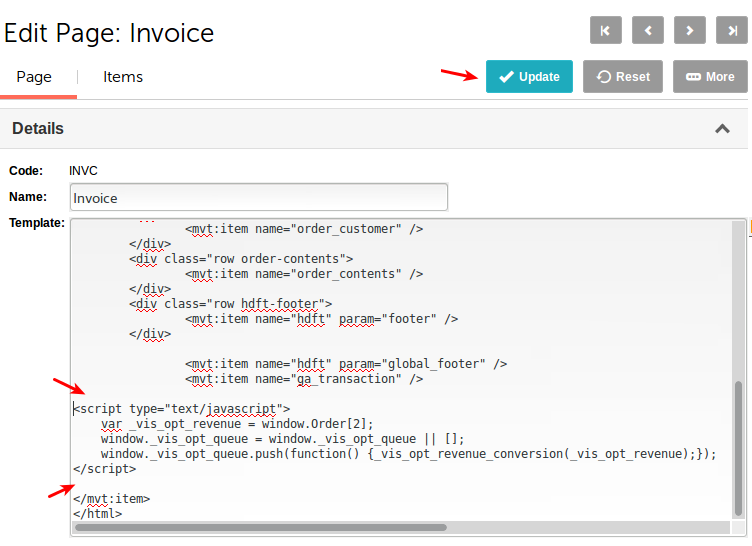 To save changes, click Update. Congratulations! Your Miva store is now integrated with VWO.
NOTE: If the revenue value is added as comma-separated value without decimals, VWO by default replaces the comma (,) with a decimal. For example, if you enter the value as 1,500, the comma is replaced with a decimal as 1.5. Please make sure to add the revenue value without the comma (,) such as 1500 or 1500.0.