close this to read article
The Integrations section is a new section located in the left panel (image below) inside the VWO dashboard - VWO customers can access and enable VWO integrations from here. The Integrations section feature is available in all VWO plans.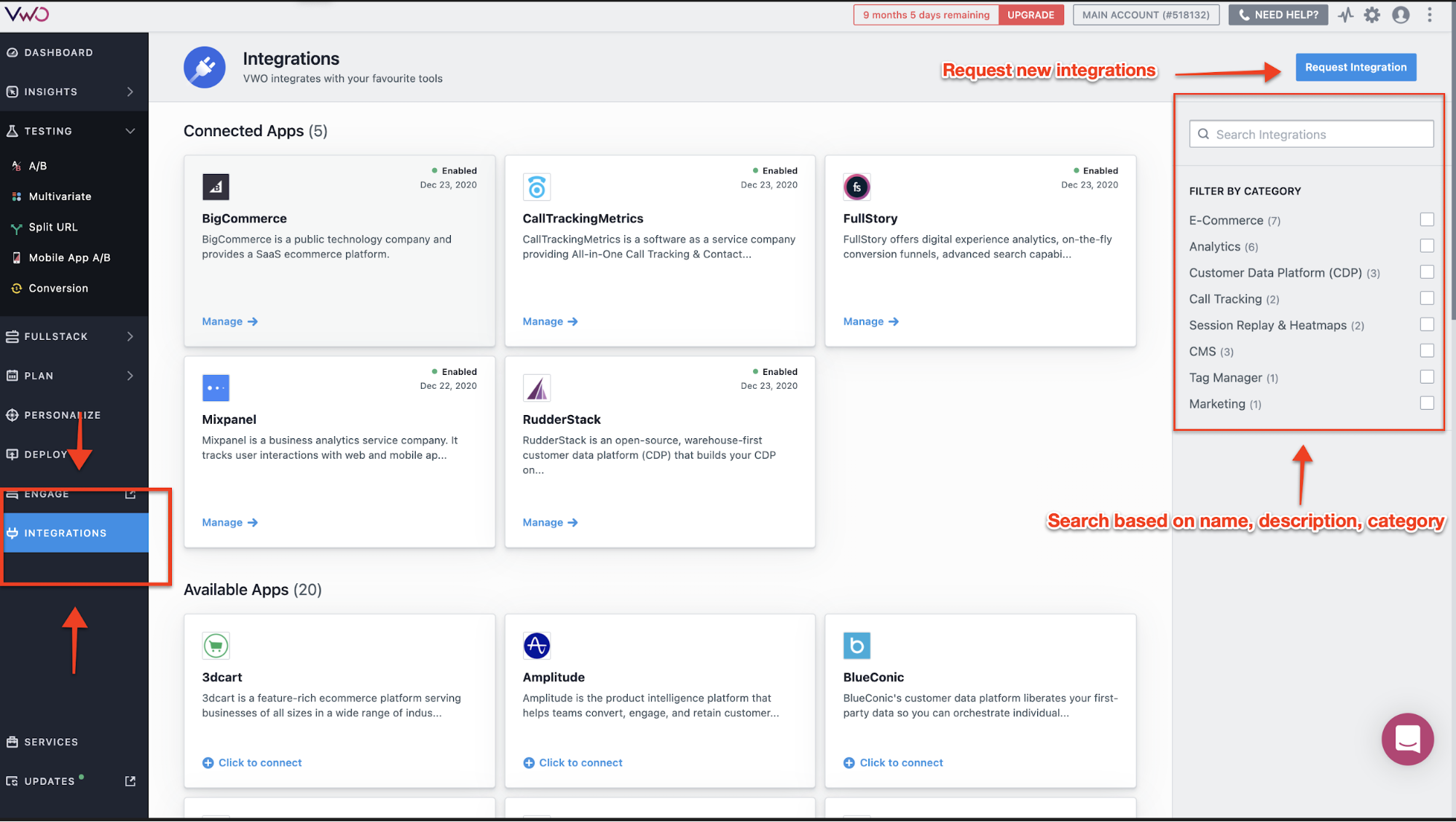 How to Use the Integrations Section
Integrations introduce a new way of using and discovering VWO integrations. The workflow solves two critical problems related to VWO integrations:
Discover and request integrations

VWO customers get easy access to a complete and updated set of integrations available.
VWO customers can send requests for new integrations directly to the product development team.

Enable one-click integrations for Analytics/Click map/Heatmap integrations
Via the Integrations section, VWO customers have the ability to install analytics integrations like Mixpanel, Amplitude, etc. without installing code snippets manually on their respective websites.
Enabling the respective integration within the Integration section gives VWO Smartcode the ability to add the integration code snippet to the campaign web page.
The ability to connect integrations without manually deploying code enables marketers to work independently - rather than relying on their developer teams to make the changes in the upcoming release cycles.
Integration Detail Page
Every integration has a detail page; click on the integration tile to navigate to the detail page (refer to the image below). The detail page has the following sections :

Specific functionality for the respective integration.
VWO products that can be used with this integration.
Help tab - Displays the integration specific knowledge base article.
Enabling One-click Analytics Integrations in Your VWO campaigns
One-click essentially means VWO Smartcode includes the integration-specific code, so no need to ask your dev team to deploy the integration code snippet. Currently, you can enable the following integrations directly via the VWO integrations tab:
All versions of Google Analytics
Google Tag manager
Mixpanel
Amplitude analytics
Kissmetrics.io
Heap analytics
FullStory
Contentsquare
To use the above integrations, follow this:
Procedure
Enable the integration from the integrations detail page. This is the page you land on after clicking on the integration tile. Click the Enable button to switch on the integration at the workspace level.
Navigate to the settings page of an existing VWO campaign(or create a new one) and make sure the respective integration(s) is checked (refer to the image below)
Once done, VWO will start sending VWO experiment data to the respective integrations.


NOTE: If the integration is disabled from the integrations tab while being used in VWO campaigns - The campaign will continue to work, but the VWO experiment data sending to integrations will stop for the disabled integrations.




NOTE: If you clone a test from one workspace to another, the integrations will not be carried over. To use integrations in your cloned tests, you must enable them again.
User Permissions for Integrations Section
Access Level

Enable|Disable Integration

Access to the integration details

Under the Integrations section

Under Campaigns Settings

Browse

No

No

Yes

Design

No

No

Yes

Publish

No

Yes

Yes

Admin

Yes

Yes

Yes