A heatmap is a visual representation of how visitors browse your website. Heatmaps use color-coding to indicate the level of activities such as clicks, scrolls, and element clicks on a webpage. On a Heatmaps dashboard, you can perform the following actions:
Enable data collection for heatmaps
Filter heatmaps
Create views
Configure heatmap settings
Enable Data Collection for Heatmaps
If you are using the Heatmaps feature for the first time, you must first enable VWO heatmaps to collect data for your website. When you enable the option, VWO automatically starts collecting data on all the pages that have VWO Smart Code.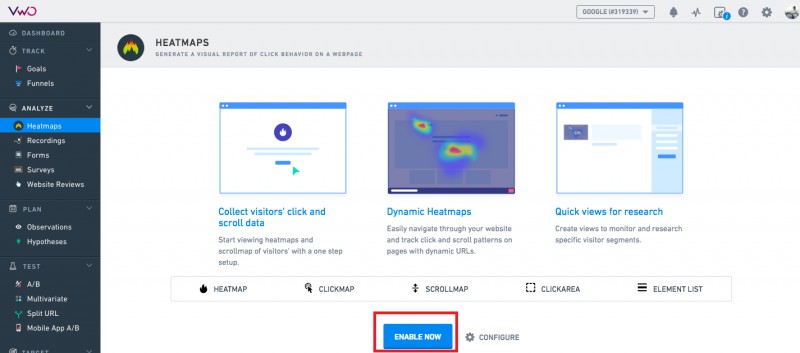 To enable Heatmaps:
Under Analyze on the navigation bar, click Heatmaps.
If you are using VWO heatmaps for the first time, click Enable Now. If not, continue working on the Heatmaps dashboard.
Click the Classic tab to view all your previous heatmaps.
Filter Heatmaps
Based on your VWO subscription plan, the dashboard shows the total number of visitors, clicks, sampling rate, and data retention for your data.
View Data for Specific Visitor Segments
To generate heatmaps based on the data collected from a specific visitor segment, select one or more segments option. You can create visitor segments per different conditions such as geographical location, user device, and other user behaviors. You can select from over 20 segment conditions such as source URLs, referral type, visitor IP address, technology, time, etc. To learn more about defining customer segments, click here.
You can create segments in the following ways:
To use a default VWO segment, use the Segment Gallery option to select the visitor segment you want to target.
To create your own custom segment and define conditions for that segment, click Custom. To learn more about creating custom segments, click here.
View Data within a Date Range
To filter reports within a specific date range, select the Select a date range checkbox.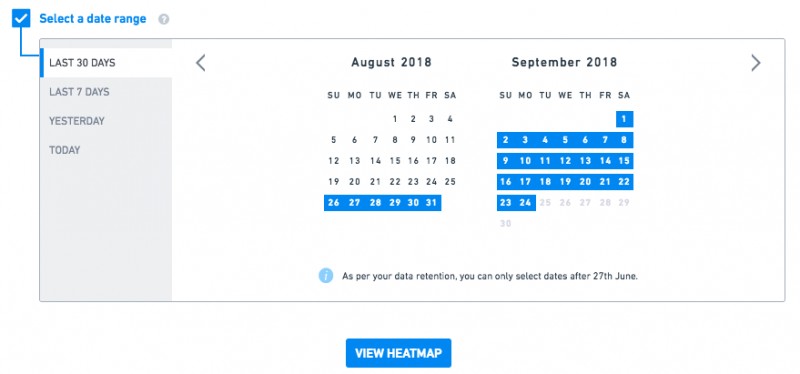 You can select from the following options:
Last 30 days: View reports of last 30 days from today.
Last 7 days: View reports of last 7 days from today.
Yesterday: View yesterday's reports.
Today: View today's reports.
Click View Heatmap.
Create Views
You can create customized views to track activities of a specific visitor segment, and then save the view for later viewing. To create a new view, click Create View on the Heatmaps dashboard. To learn more about Views and how to create them, click here.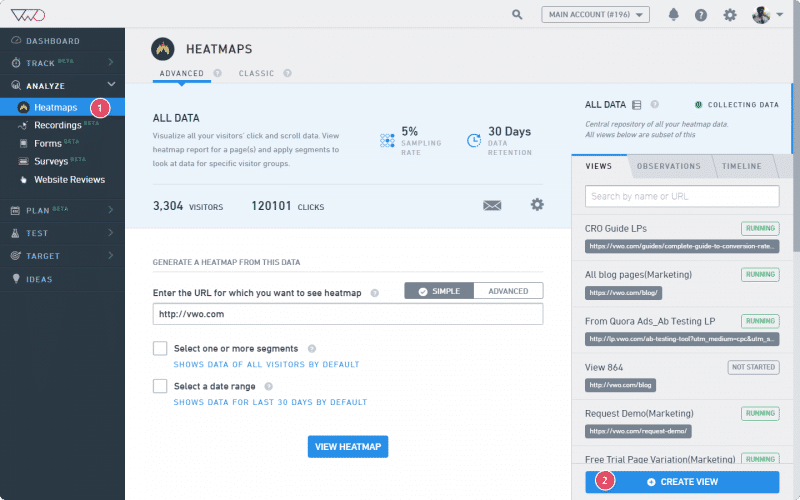 To generate heatmaps for a webpage, specify the page URLs, and then define target visitor groups if any. Click the Advanced tab next to the URL field to include or exclude URLs from the test. You can also use this tab to define advanced pattern-matching options to include either a broad URL with wildcard entries or a specific URL.

Define Audience Segment for the View
When creating views, you can define a specific visitor group whose data you want to track. You can create segment data based on  the group's geographical location, behavior, type, and other conditions. VWO offers you more than 20 segment conditions, including source URLs, referral type, visitor IP address, technology, time, or cookie values, and JavaScript variables. To learn more about creating custom segments, click here.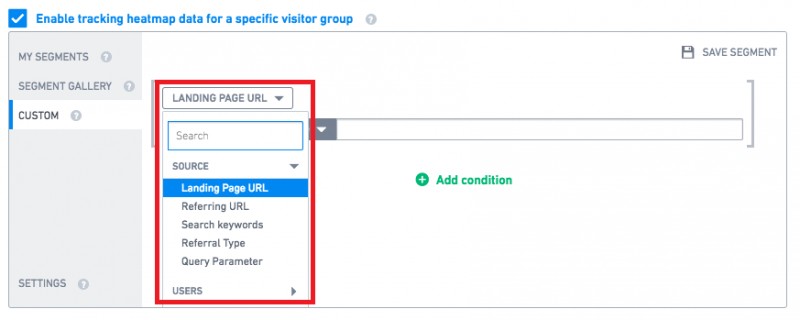 Configure Heatmaps Settings
Click the Settings gear icon to configure the URLs where you want to plot heatmap data. By default, the heatmap will run on all pages where the VWO code is present. However, if you do not want to collect data from certain pages (such as the Contact Us page, which may not be important for the test), you can use the Exclude URLs option.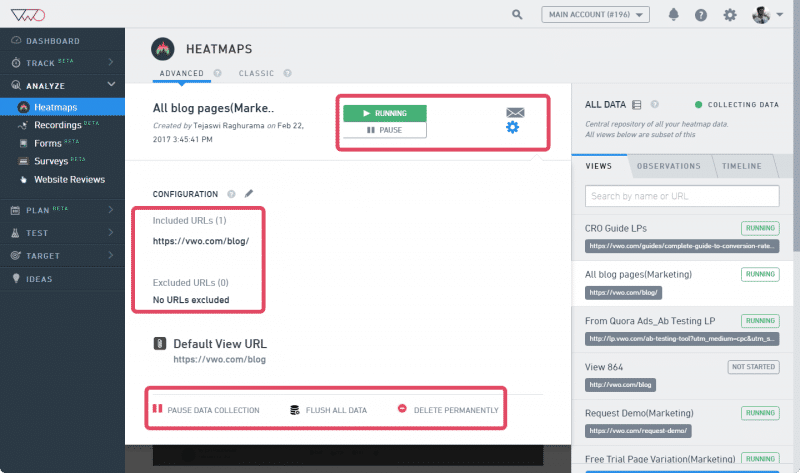 Per your requirement, you can perform the appropriate action, as listed below:
To stop the heatmap, click Pause Data Collection.
If you want to clear all existing data from the heatmap, click the Flush All Data option. VWO will stop collecting data for the views you have created on the URLs.
Click the email icon to share the report.