close this to read article
VWO Ideas is your one-stop point for researching testing ideas, reading case studies, and keeping up with the latest website optimization and conversion tracking trends. Ideas is a repository of resources and articles to help you explore testing ideas and implementing strategies from across the industry. Use the Ideas to browse through various case studies, white papers, and other resources that can help you develop your campaign and testing strategy. You can access Ideas from your VWO dashboard.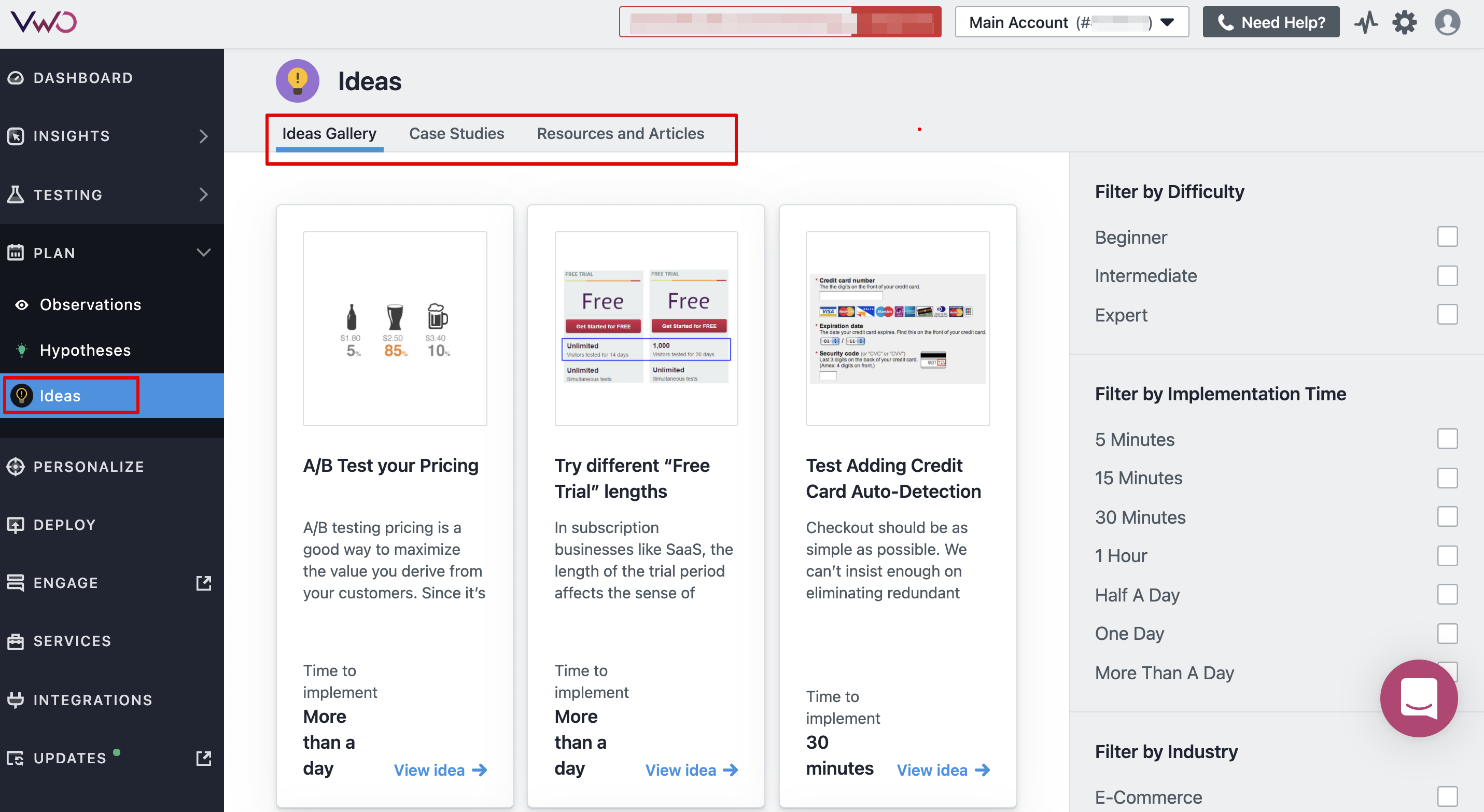 The Ideas page contains the following sections to browse for resources, read articles, or save resources to read later or use as a reference to develop your campaign strategy:
Ideas Gallery
The Idea Gallery section contains resource articles on using VWO to optimize your website conversions across the industry. Use this section to read various examples of how to use VWO to modify different elements of your websites and increase your sales. The articles in the section also discuss the best practices for implementing your conversion rate optimization strategies. Depending on your preference and requirements, you can filter resources by difficulty level, implementation time required, elements to test, and so on.
Case Studies
This section contains a comprehensive list of case studies and success stories of VWO implementation across industry verticals. You can browse for case studies developed by the VWO team on businesses from across the industry. Our case studies discuss the challenges, goals, and how different organizations successfully implemented their website testing strategies using VWO. These study papers analyze how different organizations used VWO to implemented changes to their websites and yielded positive results.
Resources and Articles
This section contains general resources and reference articles relating to A/B testing and conversion rate optimization. The articles in this section provide you with deep insight into the latest industry trends in A/B testing and different businesses use it to improve their website conversion rate.
Use the search bar to find articles based on keywords.
To filter resources by industry, select the relevant industry types on the left panel under Filter by Industry.
To filter resources by elements tested, select the relevant element type on the left pane, under Filter by Element Tested.