close this to read article
Installing the VWO plugin for your WordPress sites enables you to create and run VWO campaigns without having to write a single line of code. Once the plugin is integrated, you can create an unlimited number of tests from VWO without any page tagging.
To integrate VWO with WordPress, perform this:
Procedure
Download the plugin here or search for the VWO plugin in the WordPress directory.
Follow the plugin installation steps: either it is automatic or you need to extract the .zip file and transfer the files to your blog's /wp-admin/plugins/directory.
Activate the plugin, and enter your VWO account into the configuration page of the plugin.
Start creating campaigns using VWO.
NOTE


1. If you are using the
WordPress Rocket Loader
plugin, ensure to exclude the VWO SmartCode from the
Rocket Loader
plugin to avoid any flicker. To do so, on the WordPress Rocket dashboard, go to FILE OPTIMIZATION > JavaScript Files and add dev.visualwebsiteoptimizer.com under the Excluded JavaScript Files section present under Load JavaScript deferred and Delay JavaScript Execution.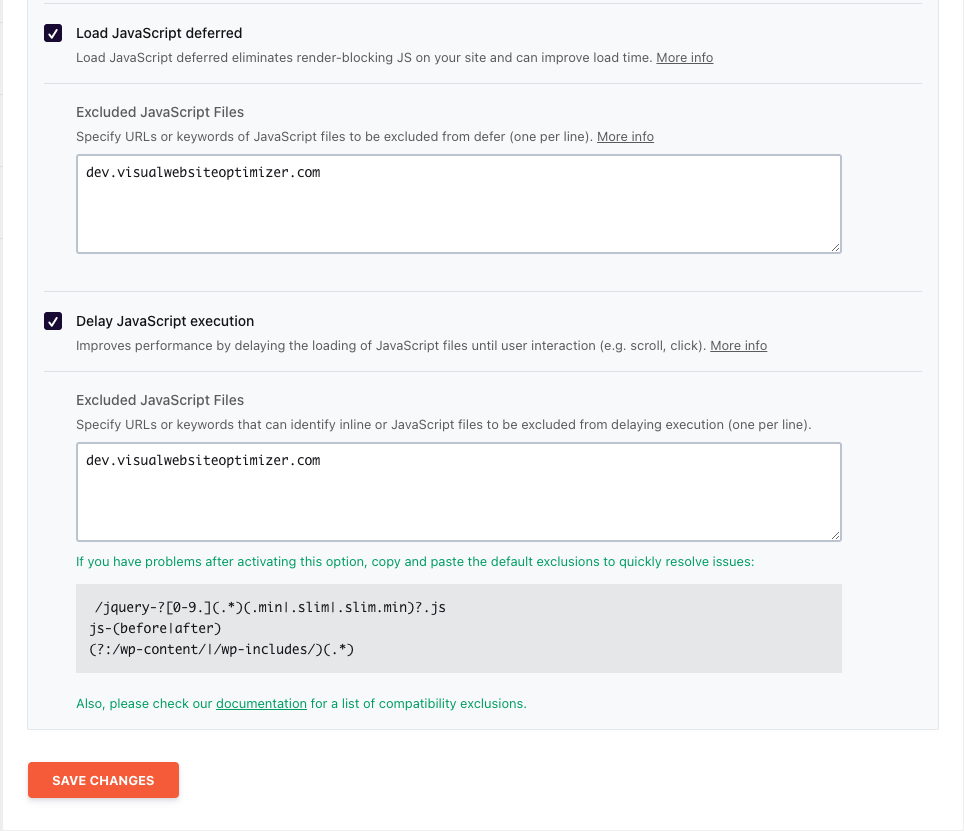 To check if you have correctly installed the SmartCode on your webpage, enter the URL in the SmartCode Checker in the Settings > SmartCode section of your VWO Account. See SmartCode Checker in VWO
to know what different results mean.
2. If you are using the Cloudflare Rocket Loader plugin, ensure to enable the Skip Deferred Execution setting in the VWO plugin to avoid any flicker on the site.


INFO:
Your VWO account ID is present in the panel at the top of the VWO app.