The Enable Filtering option in Custom Dimensions allows you to filter sensitive information and anonymize data before storing the data on the VWO server. All anonymized values are displayed as vwo_anonymized in the reports.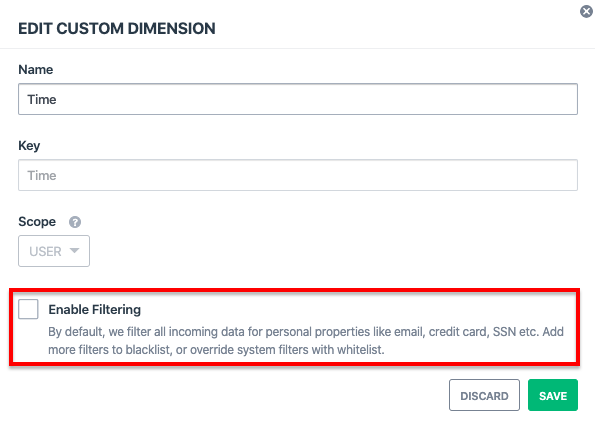 By default, VWO detects information formats for email addresses, credit cards, social security numbers, phone numbers, and looks for data that may contain authentication token and other unique data.
You can enable report filtering by enabling the option Enable Filtering present in Create a Custom Dimension dialog. For more information on how to enable custom dimensions, refer to Creating a Custom Dimension section.
NOTE: Use Blacklist (anonymize) or Whitelist options to ensure that no 
sensitive information is captured in query parameters and sent to VWO. 
To whitelist or unhide any global blacklist parameter, you can enter the 
value in the Whitelist section. Similarly, to blacklist or hide any global 
blacklist parameter, you can enter the value in the Blacklist section. 
For example, to define a regex value for email, you can add the following 
[a-zA-Z0-9_.+-]+@[a-zA-Z0-9-]+\.[a-zA-Z0-9-.]+
By default, VWO blacklist's the following- email address, credit card number, passwords, SSN, and IP address.
NOTE
1. The password field will always be anonymized, regardless of 
whitelisting such fields. 
2. For numerical inputs like credit card details, social security 
numbers, or CVV, enabling anonymization will replace the actual 
input with zeroes.
3. By default, VWO replaces the last octet of IP Address with 0
before saving it.