NOTE:
This integration covers the inbound transfer of events and attributes from Segment into your VWO account. This integration is to be performed via your Segment account. To learn about the outbound transfer of events and attributes from VWO to Segment, click
here
.
The latest version of Segment offers to transfer data at an elemental level. Integrating your VWO account with Segment will facilitate the inbound transfer of visitor data, wherein you will be able to receive the events and attributes directly into the Data360 module that can be saved and applied to your VWO campaigns.
The values from Segment will be received in the Data360 module in VWO. These events and attributes will appear under the UNREGISTERED EVENTS and the UNREGISTERED ATTRIBUTES sections, respectively. You need to save these values to VWO to be used further in the campaigns in VWO.
Saving Unregistered Events and Attributes
The events and attributes as received from Segment will appear in the Unregistered section, respectively. The events and attributes imported from Segment can be identified by the name tagged to them. They appear in the format - segment.<name of the event/attribute>. For example, segment.HeatmapAllClicksSelect.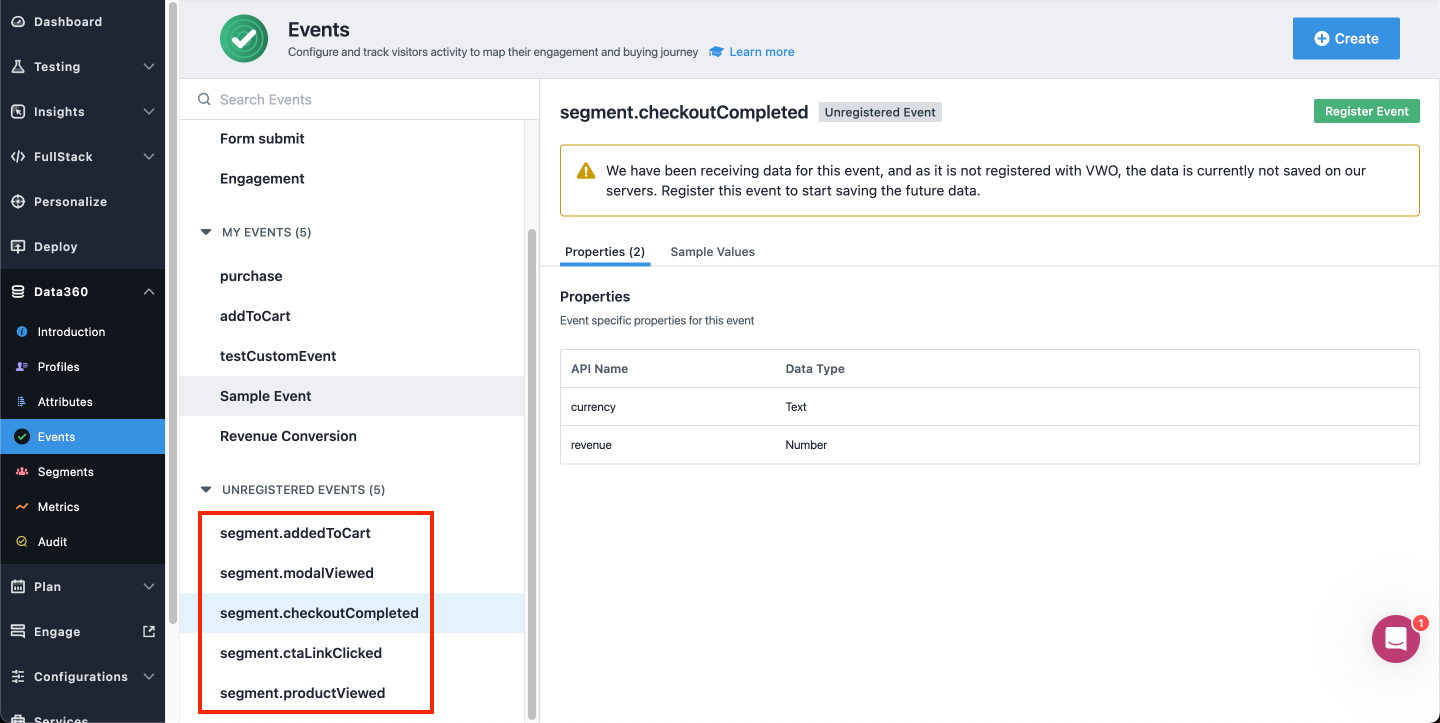 In order to use these events and attributes in your campaigns, you need to save them to your VWO account. The procedure to save an unregistered event or an attribute is the same and is as follows:
Under the UNREGISTERED EVENTS / UNREGISTERED ATTRIBUTES section, click on the imported event/attribute.


Click on the Register Event / Register Attribute button to save the event/attribute to your VWO account.


NOTE:
1. The event properties with data types other than Text, Number, and Boolean will be discarded automatically.

2. If you're on the Growth plan for Data360, you will be allowed to register events with only one property each. Thereby, the Register Event / Register Attribute button will not be enabled for events with multiple properties. In such cases, you can retain one of the properties and delete the rest.

Once done, the event/attribute gets transferred to the MY EVENTS / MY ATTRIBUTES section.
Now, you can use the event/attribute to construct a metric to track conversions or a custom visitor segment to target your campaign or filter your campaign reports.