VWO allows you to structure and organize your Account and Users using different levels of authority. The hierarchy consists of accounts, users, and sub-accounts. As an account owner or administrator, you can add multiple users and sub-accounts to your VWO account.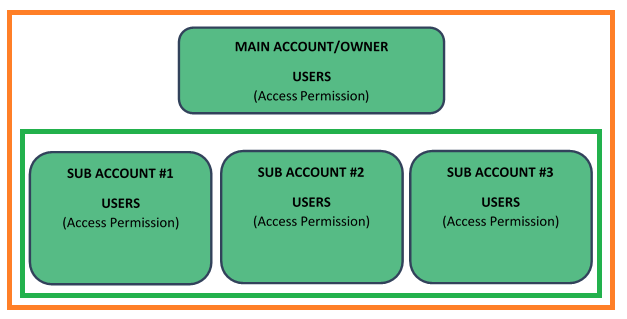 Main Account/Owner

This is the topmost in the VWO hierarchy and also the contact point for VWO. With this account, you can:
Create users and define access permission for each user

Assign admin privileges to multiple users

Create sub-accounts


Users

You can add users to an account to facilitate smooth collaboration between members of a project. When you add a user, you identify the person by the email address registered in VWO and you assign the appropriate access level for each user. The access level indicates the actions that users can perform in VWO.
| | | | | | |
| --- | --- | --- | --- | --- | --- |
| Access Level | View Tests | Create Tests | Publish Tests | Create Users | Add Custom Dimension |
| Browse | Yes | No | No | No | No |
| Design | Yes | Yes | No | No | No |
| Publish | Yes | Yes | Yes | No | No |
| Admin | Yes | Yes | Yes | Yes | Yes |
Sub-accounts
As an account administrator or owner, you can create sub-accounts to organize customers or products you handle into separate categories. In most cases, sub-account are used by agencies handling multiple customers and need to manage a separate account for each customer. It can also be used in a large Enterprise setup where different teams need to run their own tests on varying domain names.
Users under Sub-accounts
Each sub-account can have multiple users under them and different access levels (Browse, Design, Publish, Admin) can be assigned to each user. However, users under a sub-account will be restricted only to the sub-account and cannot view data outside the sub-account. For example, a user with admin privileges in sub-account 1 cannot view data related to sub-account 2.
Furthermore, if a sub-account is disabled from the main account, the users under the sub-account will not be able to login to VWO.