VWO Session Recordings allows you to record visitor interactions on your website in a video form. Analyzing these videos can help you map user journey on your website and figure out exactly why they are leaving, what's stopping them from buying, or where do they spend most of their time on a page.
The end-to-end process for creating Views in Recordings involves the following steps:
Setting up pages to record
Defining visitor segments
Configuring advanced options
To get started, click Session Recordings under Insights on the navigation bar. This takes you to the Session Recordings dashboard where you can view the list of sessions recorded from the account. To record activities on a page, click Create View on the panel to the right.

Setting Up Pages to Record
To set up a recording, you can start by entering a title for the view by clicking on the pencil icon against New View. Then, specify the URLs of the pages where you want to record sessions on. You can use URL patterns and regular expressions to record sessions site-wide and on multiple pages.

PRO-TIP: Click the Advanced tab next to the URL field to include or exclude URLs from the test. Using this tab, you can also define advanced pattern-matching options to include either a broad URL with wildcard entries or a specific URL.
Defining Visitor Segments
You can define a visitor segment for the test to capture data of specific visitor groups. You can create visitor segments based on different conditions such as geographical location, user device, and other user behaviors. To learn more, click here.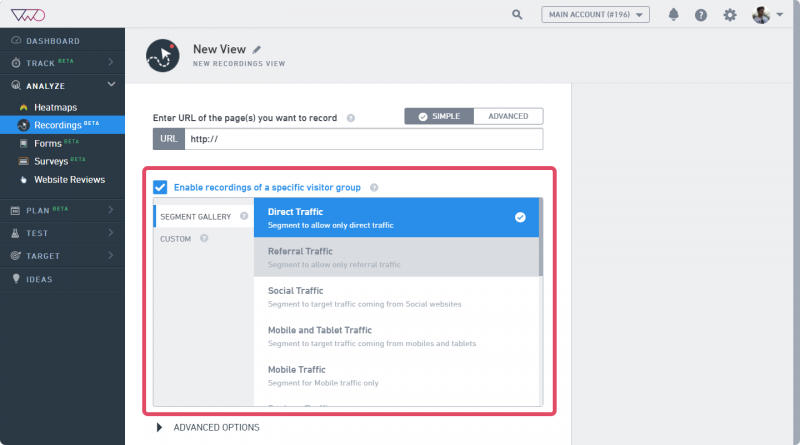 To view segmentation options, select the Enable campaign for a specific visitor group checkbox.
To use a default VWO segment, select the visitor segment you want to target using the Segment Gallery option.
To create your own custom segment, select the Custom option to define conditions for a segment. To know more about creating custom segments, click here.
Configuring Advanced Options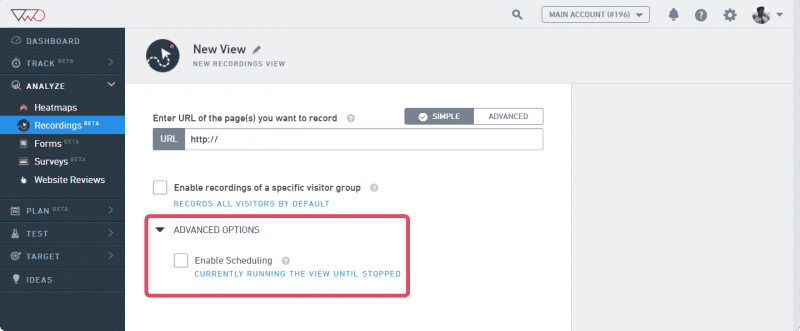 You can schedule your recording to run, pause, or stop at specific times. To learn more about using the scheduling option, click here.
Click Create to complete the setup process.