By default, VWO anonymizes all key presses to avoid storing or transmitting any personal or sensitive data to VWO servers. Under Session Recordings > Settings > Configuration, the Anonymize all key presses option is checked by default.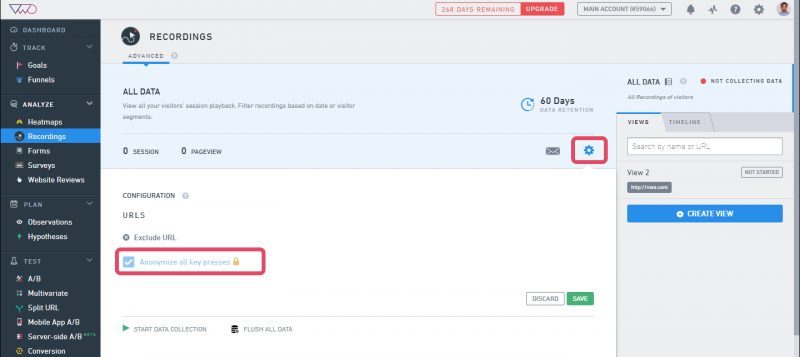 VWO will anonymize the following fields to avoid transmitting your personal data through VWO servers:
Password fields
Three consecutive digits of phone numbers, credit card, social security, and CVV
Anonymize/Whitelist Fields
Despite the default setting for anonymizing keystrokes, you can provide additional security to mask certain non-input fields where personal data could be visible. Examples include Order summary, Checkout page, and others. There are two ways to anonymize such non-input fields:
Add the nls_protected class: The HTML tag with the protected class will mask the content with special characters and prevent it from displaying the information on the specific area.
Add the selector path: To anonymize an element on using the selector path, select Recordings on the VWO dashboard, click Settings and then select Configuration. In the Configurations section, go to Anonymize/Whitelist Elements and enter the CSS selector path for the element.
ATTENTION: By default, all password fields and three consecutive digits of any number will be anonymized. However, the password field will always be anonymized, regardless of whitelisting such fields. For numerical inputs like credit card details, social security number, or CVV, enabling anonymization will replace the actual input with zeroes.