close this to read article
A/B testing is the practice of comparing multiple variations of elements on your webpage at a time and picking out the best. You can perform A/B tests at different levels- you can test different colours of the CTA button, change the headlines, etc. By displaying such variations of your website, you can see which one attracts more interaction and conversions from your visitors.
Conversions happen when your website visitors perform an action on your website. An action could be buying from your website, filling up the subscription form present on your website, or any other action you want your visitors to take.
In VWO, the process of A/B Testing starts with understanding the visitor behaviour on your website, making observations, and creating a hypothesis for testing. You then implement changes on your website to test the hypothesis.
TIP: Choose the A/B testing method when your objective is to determine how minor changes on your webpages affect the conversion rate.
The comparison between the variations is made by distributing the visitor's traffic amongst the variations and using VWO to track the performance of these variations. To learn more about A/B testing, refer to our A/B Testing blog.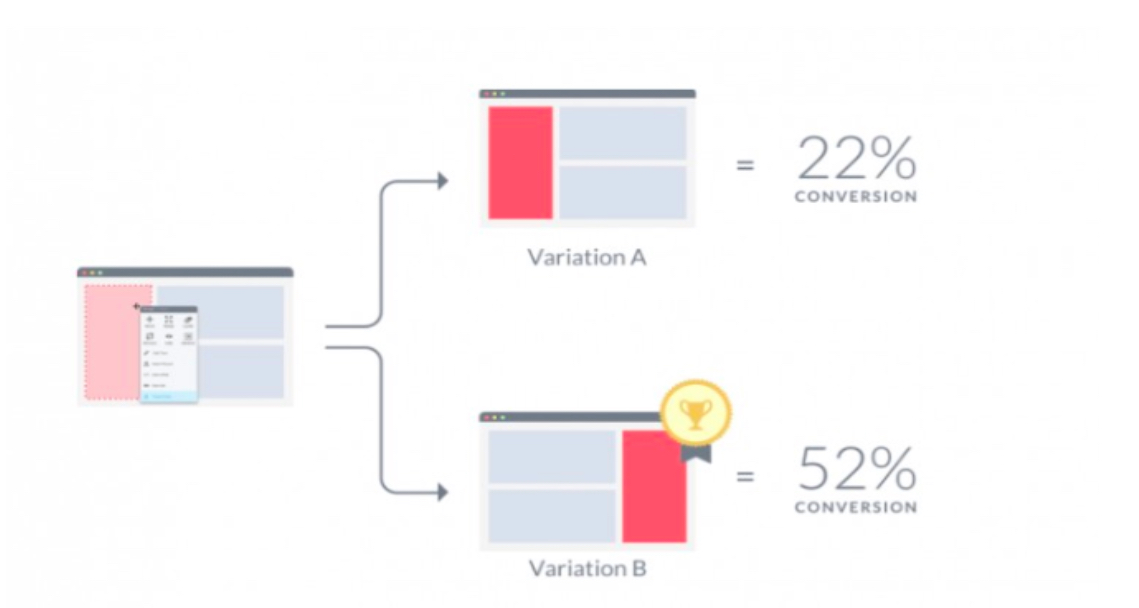 For example, in the above picture, two variants of your webpage are created- Variation A and Variation B. Variation A is the current version (Control), and Variation B is the modified version (Variation). An A/B test is performed on these two variations by distributing website traffic equally between them and determining which variation gets more conversion. The conversion rate in Variation B stands at 52%, and in Variation A, it's 22%. As the conversion rate in Variation B is far more than Variation A, Variation B is coined as the winner. A winner is declared based on various factors. To learn about these factors, refer to How VWO Calculates a Winning Variation.
A/B Testing helps you to:
Create multiple variations of a website in minutes
Reduce visitors' bounce rate
Maximize conversion rate
Easily determine a winner or loser based on simple metrics
Determine a winner even with low visitor traffic, i.e., A/B testing does not need millions of data to give the best results
If your objective is to test changes on multiple elements that work towards the same goal, multivariate testing is a better solution for you. You don't just get to see the impact of the combination of changes and the impact of changes made to individual elements (known as sections in VWO).
NOTE: As a Multivariate test creates multiple combinations, it requires a high amount of traffic.
To learn how to modify elements on one page and then replicate those changes across your website, refer to How to Implement a Change Across Your Website.