For On-page Surveys, the survey questions can be added from the Add Questions screen. On the page, you can add your survey questions, order the question flow, restrict response formats, add logic, and build the survey to suit your business needs.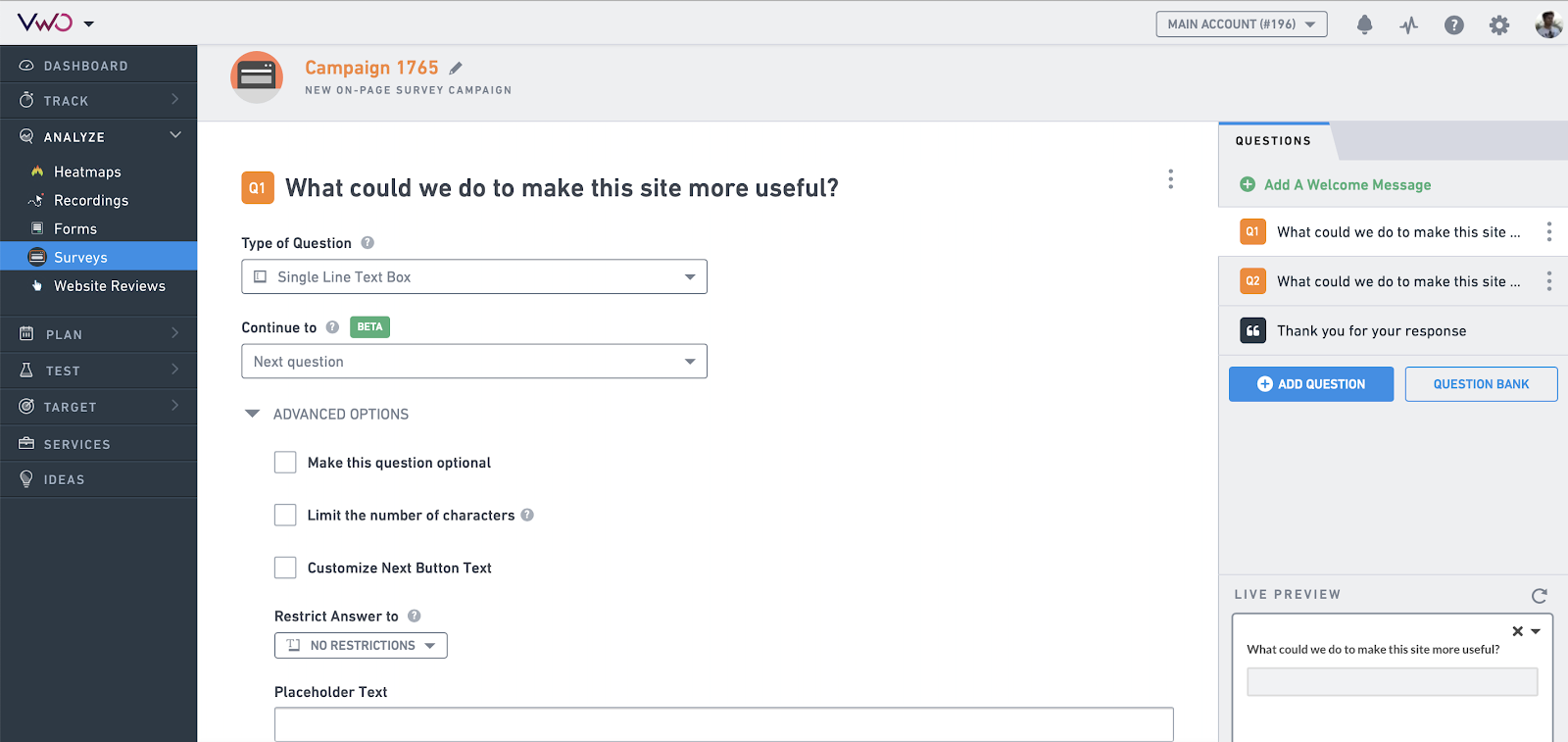 Add Welcome message
On the left panel, under Questions, click Add a Welcome Message if you want to add a note to your survey respondents. The welcome message is optional and displayed only if you have added the message. Without the welcome message, visitors will right away see the survey questions.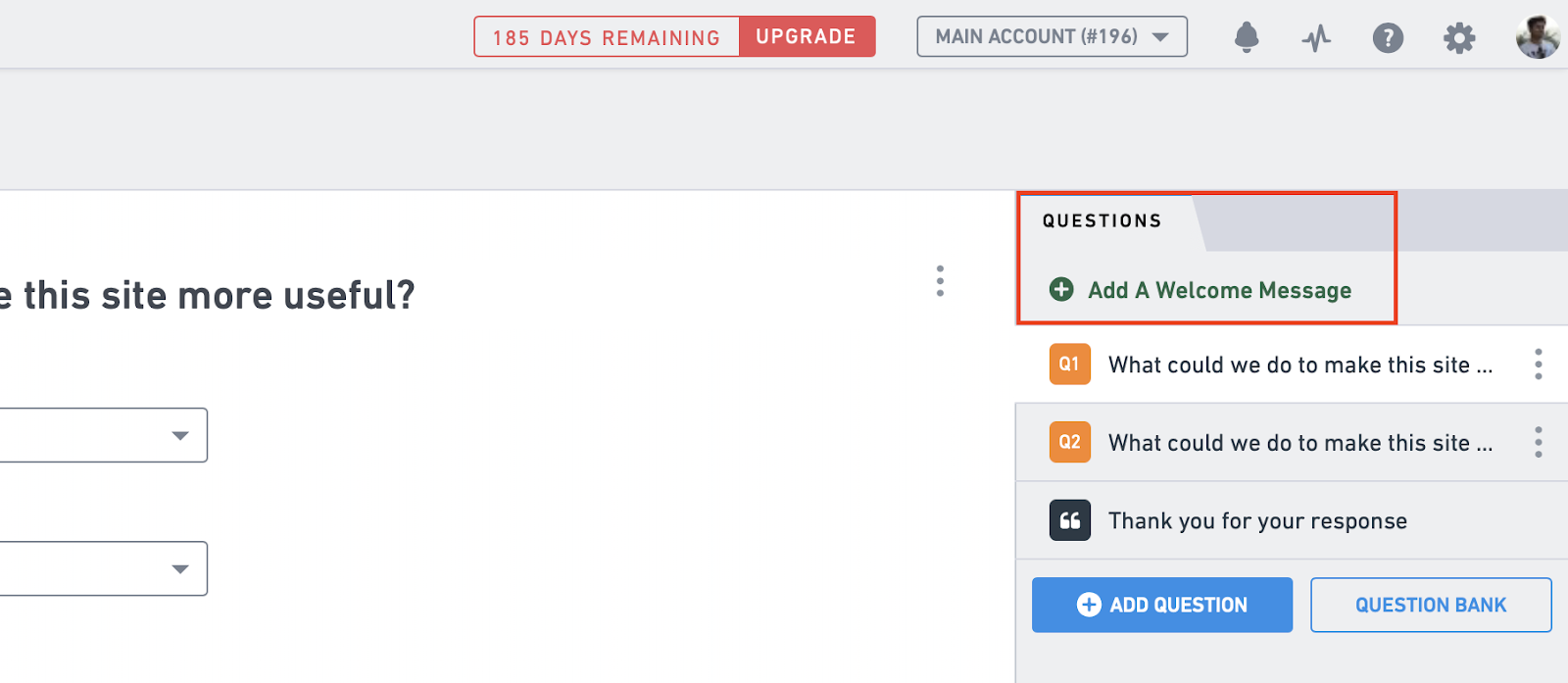 After you enter the welcome message, you can add a check option for cases where respondent consent or privacy protection is required for the survey. For example, you may want to add user acceptance saying "I understand and agree to your [Privacy Policy]".

NOTE:  If a user clicks on the consent message, but does not start the survey, VWO will count the event as Displayed and Attempted.
Add Questions
You can add different question types to collect information from your website visitors. You can add, edit, reorder, and add the next step or question to display to the survey respondents. 
Under Questions, click Add Question to add a new question to the survey. 
VWO Surveys provides you with a comprehensive Question Bank in the form of suggested questions. Click a question in the question bank to add that question to the surveys. If use a particular question frequently, then you can save the particular question for later reuse. 

The question bank has two sections – General and Custom. General displays VWO pre-defined default questions, whereas Custom displays questions added by you.

Using the Continue to dropdown, you can add rules for every question you add to the survey. Adding rule allows you to define what question should display next for the respondents:
Next Question: This is the default behaviour which simply takes the respondents to the next question in the sequence. If no logic is applied to a question, the next question displays by default. If there are no more questions in the sequence, the 'Thank You' message is displayed.
Specific Question: Jump to a specific question, regardless of what the respondent answers in the last question displayed in the survey. This logic will execute when a respondent answers and clicks on the Next button.
Specific question based on multiple conditions: Jump to a specific question, based on the responses to the previous question. For example, if the response to Question 2 is YES, then show Thank You message; if the response is NO, then show Question 3.
Setting Up the Questions
After adding a question, you can customize how you would want to collect the responses and add rules for the question. 

To select one of the following question formats, click the Select Type of Question drop-down arrow. 
Single Line Text Box: Select this question type if you want to display a single-line text box for the responses you want to collect.
Multi Line Text Box: Select this type if you want to display a multiple-line text box for entering a visitor response.
Radio Button: Select this option if you want to help visitors choose one option from many to indicate their responses.
Checkbox: Select this option to display check boxes for survey responses.
Dropdown: Select this option to allow visitors to select an appropriate response using a drop-down list.
Multi Select List: Select this option if you want to display a list of responses that visitors can select from.
Rating (5 stars): Select this option if your survey needs to collect only ratings as feedback from the visitors.
Net Promoter Score*: Select this option to ask if your visitors would like to recommend the product or website to their contacts. If you select NPS option, you can customize the score labels under ADVANCED SETTINGS. For example you can change the default least score label 'Not at all likely' to 'Never' or the highest score label 'Extremely Likely' to 'Absolutely' and so on.
Advanced Options
Under Advanced Options, you can configure the following conditions for the responses:

Select Make this question optional if you want to make the survey question optional. By default, all questions are mandatory. Your visitors can skip to the next one if a question is marked optional.
Select Limit the number of characters option to determine how long or short an answer can be to be accepted as a response.
Select Customize Next Button Text to have the text that you want.
Use the Restrict Answer to drop-down list to select the input format you want in the response. You can choose to receive responses in different formats such as number, phone number, email address, date, URL, and regular expressions (regex). This option is available only for the Single Line Text Box question type.

No Restrictions:  Enter letters, numbers, or special characters in their responses.
Number: Enter numeric values only
Phone Number: Enter a valid phone number
Email Address: Enter valid email address
Date: Enter date in YYYY-MM-DD format without spaces. For example: 1988-01-01
URL: Enter a valid URL. For example, https://www.myexample.com
Regex: Enter regular expression in a valid format
Enter placeholder text for input boxes in the survey. The placeholder text serves as a guide or tip for your visitors. This option is available only for Single Line Text Box and Multi Line Text Box type of questions. For example, you may want to add instructions like "Enter a date range" in the input text box.
PRO-TIP: The advanced options are displayed per the question type you choose. For question types like radio buttons, check boxes, drop-downs, and multi-select lists, you can add "Others" as an option, which opens an additional text box to enter comments.
(Optional)Enter the Thank you message for visitors who took part in the survey. The Thank you message always shows up. If you have a customized message, you can add it here to display it for your visitors after the survey. If you have not added a custom "Thank you" message, the default message is displayed for the visitors.
(Optional)Select Ask your Visitor for Email if you want to request email addresses of the visitors who took the survey. The question text for this option can be edited.
*Net Promoter, Net Promoter System, Net Promoter Score, NPS and the NPS-related emoticons are registered trademarks of Bain & Company, Inc., Fred Reichheld and Satmetrix Systems, Inc.