To understand how a user interacts with your website, you need to interpret the Session recordings.
To access the reports section of your VWO Session Recordings, click Insights > Session Recordings. In the Session Recordings dashboard, select the recording you want to view.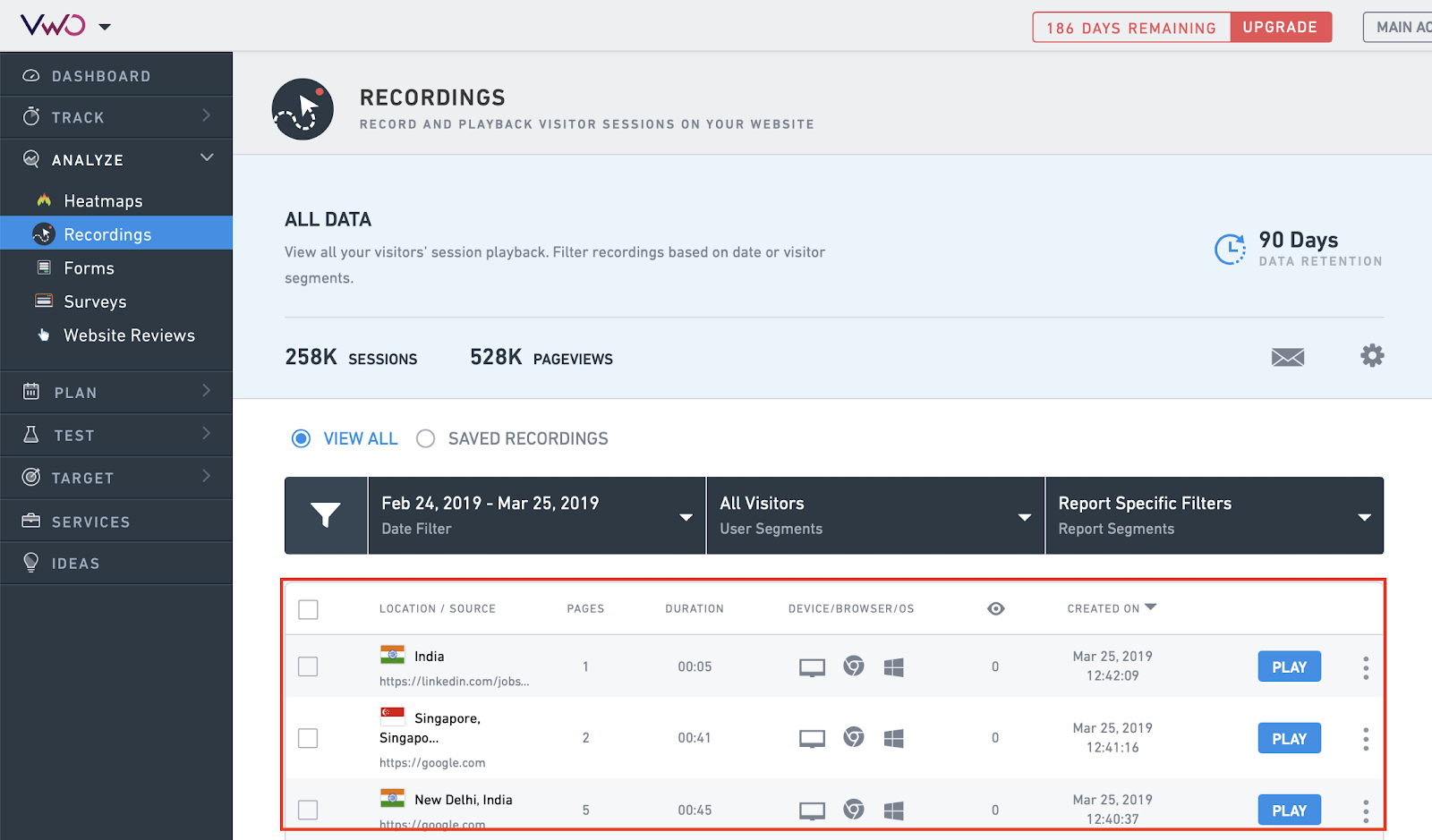 Interpreting a Recording
Looking at the Session Recordings can help you map the user journey on your website. The Session Recordings interface has the following elements: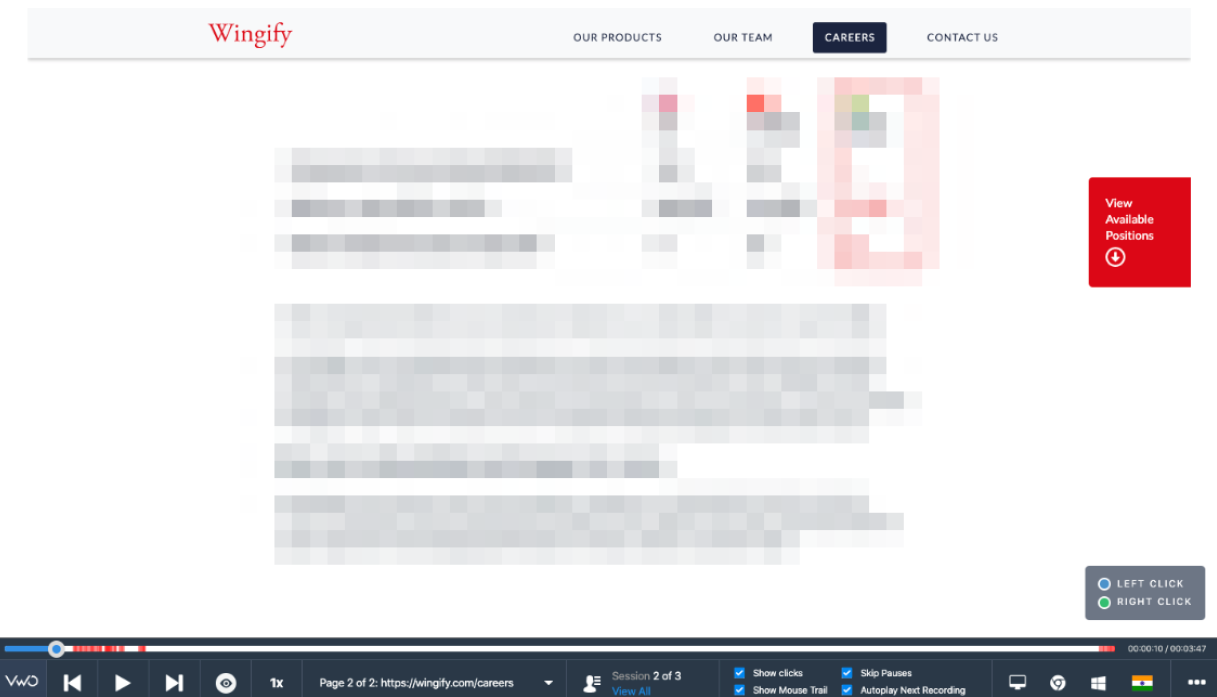 Play/Pause: To pause the playback or start it if paused.
Next/Previous: Move to the next/previous session of the visitor.
Adjust Playback Speed: Change the speed of playback- 1x, 2x and 4x.
Page URLs: It shows the URL of the current page.
Visitor profile: Number of available recorded sessions of the visitor.
Checkboxes: The Recordings interface contains different checkboxes for you to select to get more specific insights:
Show clicks: Select this option if you want the clicks to be highlighted in a recording. The color codes for the left-click and the right-click are shown in the screenshot below.
Show Mouse Trail: Select this option if you want to record mouse movements.
Skip Pauses: Select this option if you want to see only the portions which have activity.
Autoplay Next Recording: Select this option if the next session of the visitor needs to be loaded and played automatically in a continuous manner


Traffic Sources: This section highlights your traffic sources in terms of the platform, browser, device, and demographics.
Share/Download/Save/Delete: Click any of the four options to perform the respective action.
Visitor Profile
If you notice something interesting in the session, and you wish to investigate that specific website visitor in-depth, you can now view all the sessions of the visitor before or after the one being currently played. To view the sessions, click on the Visitor Profile tile to view the profile of that visitor. Here you can see the Traffic Source details of the visitor along with the list of sessions. By default, the recordings are sorted from oldest to most recent and you can play any of them.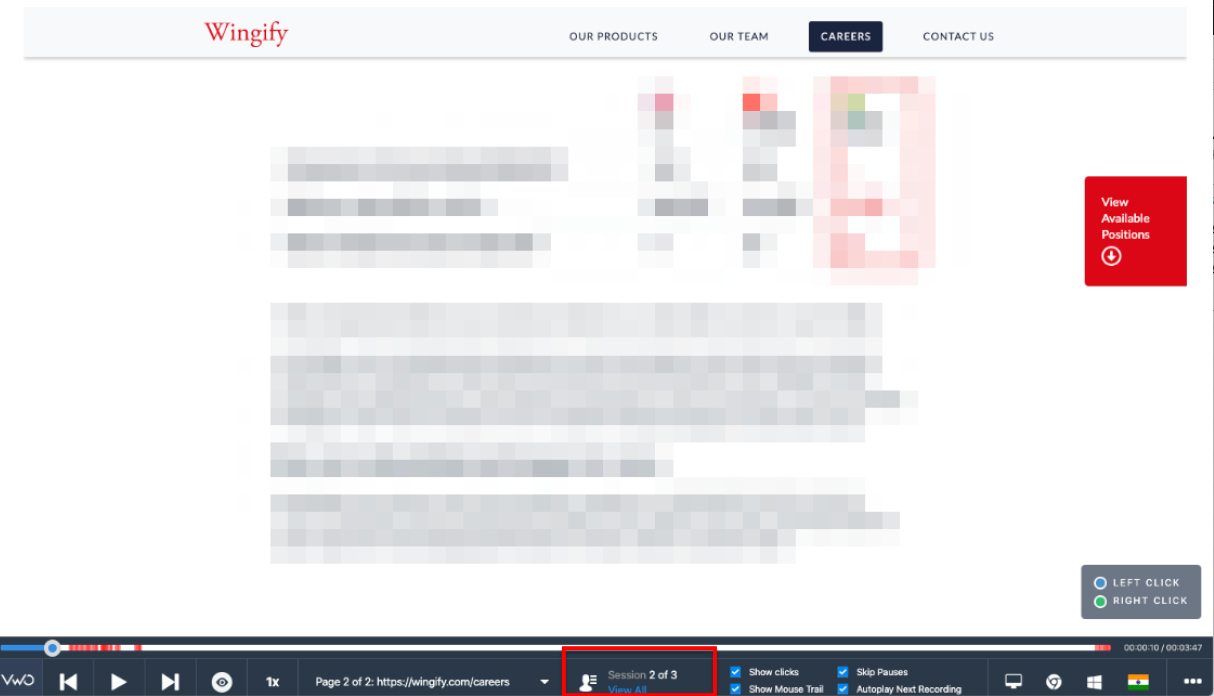 The visitor's profile panel displays all the sessions of that visitor. From this list of the session, you can view any.