VWO Data retention period defines the time-frame for storing your website data on VWO servers for VWO Insights only. The retention duration depends on your VWO plan subscription. Click the VWO Pricing page for more detailed information on plans and features.
To check your retention period and data usage, click Settings > Accounts and select the usage tab.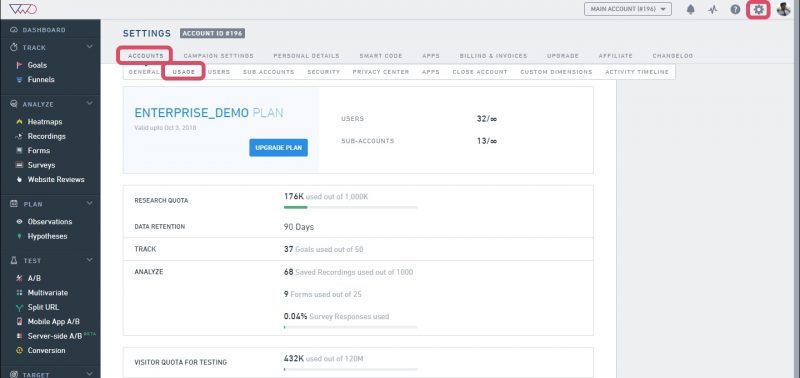 VWO Data Types
Data collected using VWO can be classified into two types – aggregate and detailed data:
Aggregate data – Visitor data collected for goals, tests, surveys, and website reviews. These data are retained beyond the retention period right from the day of creation until the present date. However, report-segmentation feature will not work for historical that are outside the retention period.

Detailed Data – Data that is retained for a limited period of time depending on your VWO subscription plan. This includes data collected for heatmap clicks, recordings, form analytics, user attributes and session-level data.
How is retention period calculated?
Data beyond the retention period is purged incrementally. For example, if the data retention period is for 60 days, then data for Day 1 is purged after 60 days. If you upgrade or downgrade your VWO subscription plan, that new retention plan will come into immediate effect.
The following use cases explain how data retention functions in different scenarios:
Downgrade VWO Insights Plan: The retention period decreases as per the new plan. For example, if you downgrade from a higher plan to a lower plan, data for the older 60 days is purged.

Upgrade VWO Insights Plan: The existing data is retained and new data is added incrementally. For example, if the previous retention plan was for 30 days and you upgrade it to 60 days, previous data is retained and new data added incrementally.

Unsubscribing from VWO Insights: VWO retains data for only 30 days, irrespective of the retention period of the existing plan.

Subscribing to VWO Insights: New data is populated incrementally from the day of the upgrade.

Evaluation Period: By default, evaluation for VWO Insights will only have 30 days retention period.
How Data Retention Impact Post-Segmentation?
By default you can segment data for only 30 days, irrespective of the data retention period you are subscribed for. For example, if your data retention period is for 90 days, you can only apply segmentation option for up to 30 days data within the retention time-frame.
When creating custom segments, the user cannot apply conditions under Others category more than twice for the same segment. There is no limitation for using conditions from other categories.

Saved Recordings are available beyond data retention period. For Saved Recordings, users can only apply report-specific and session-based segmentation, such as the browser, duration, number of pages, and operating system.
| | | |
| --- | --- | --- |
| Feature | Retention Policy | Data Availability |
| Goal | Applicable only for segmentation | Aggregate data (visitors and conversions) always available. |
| Funnel | Applicable | Data available within the retention period |
| Heatmaps | Applicable | Data within the retention period |
| Recordings | Not applicable for saved recordings | Data within the retention period. |
| Forms | Applicable | Data within the retention period. |
| Survey | Not applicable | Aggregate data always available |
| Website Review | Not applicable | Aggregate data always available |