With so much to do, one of the major mistakes that companies make when they start A/B testing activities is sticking to a small, basic audience. This does not yield the most meaningful results or sometimes, the results could be misleading. If you want to have meaningful, useful outcomes, you need to have a segmentation strategy in place.
Segmentation typically means to split your website visitors or app visitors into different groups and categories. This grouping is done based on some common needs and interests allowing you to understand the behavior of different groups. This helps in providing your website visitors with more relevant and targeted content.
To know more about Segmentation in VWO, refer to this video.

By using the various segmentation options supported by VWO, you can slice and dice your website traffic to understand visitor behavior and get deeper insights into how they are using the website
In VWO, you can define the segments on various conditions like:
Visitor type

The source from where the visitor landed on your website

Device used

Geographical location, etc

Time
VWO supports two types of segmentation, one for data collection called the Pre-segmentation, and another for interpreting reports called the Post-Segmentation. Let's delve more into these:
Pre segmentation

: Before running a VWO campaign, you can bucket your website visitors into different segments based on their source URL, device, location, time, behavior, and other conditions. When you target a visitor segment through a test, the visitors who qualify the conditions set for the segment are the only ones who can take part in the test.

For example,

you can create a segment for visitors who use Facebook on their iPhone device during XX – XX hours of the day.




Post segmentation

: After a campaign has run and visitor data is collected, you can slice and dice the data to view how visitors from a specific traffic segment interacted with your website.

For example,

you can create a segment to view the reports of all the new visitors from Europe who clicked on the Products tab of your website using their iPad device.
Configuring Pre-segmentation in VWO
Using the pre-segmentation option in VWO, you can collect the data for your test from a particular visitor segment. For example, you may want to track visitor data on your website through Facebook or Google ads residing in a specific country, or based on a cookie value.
NOTE: For pre-segmentation, you can only use the Cookie value, JavaScript 
conditions, and IP Address conditions.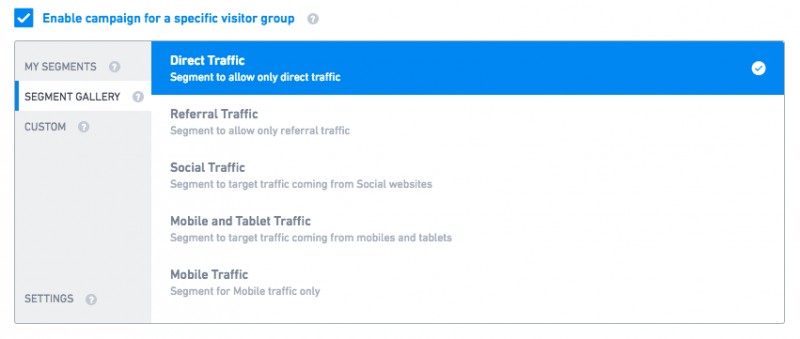 Configuring Post-segmentation in VWO
To get a deeper insight into the data collected by your tests, you can slice and dice the test reports to view visitor traffic from a specific segment. Understanding how different visitor groups behave on the website allows you to analyze what works best for a segment and what does not.
For example, you can view traffic only from visitors coming from a particular device, say iPad.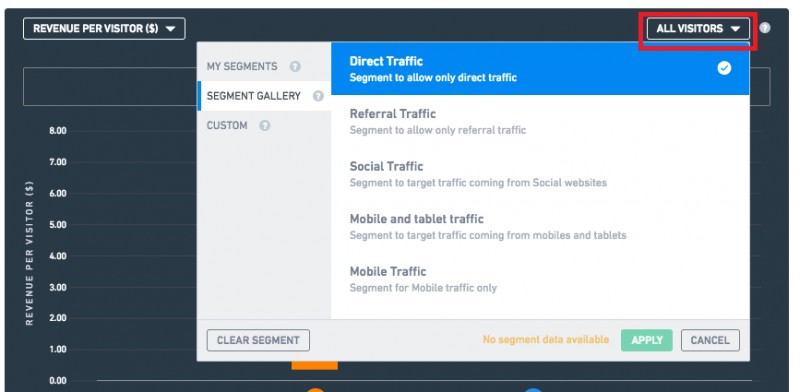 For VWO Insights, you can view data for associated tests, goals, funnel drop-off, and other custom dimensions.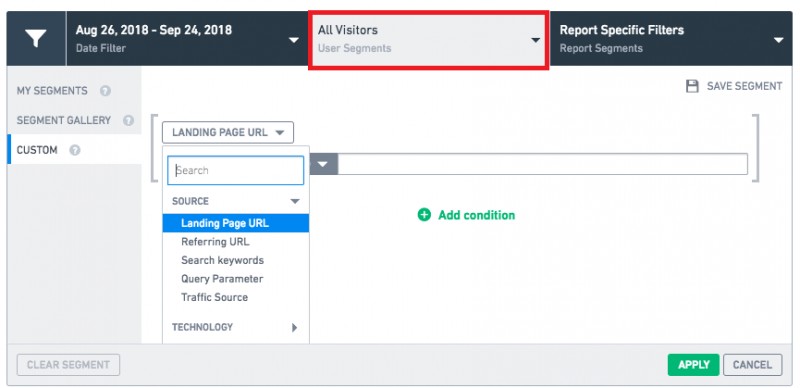 Saving Your Custom Segments in VWO
To avoid a repeat of the task, you can create and save your custom segments. This way, you can reuse them in other features of VWO again. Say, you have created and saved a custom segment while you were setting up a funnel and the segment with similar conditions needs to be used for forms as well, then it can easily be added from the MY SEGMENTS sections without having to add a new one from scratch.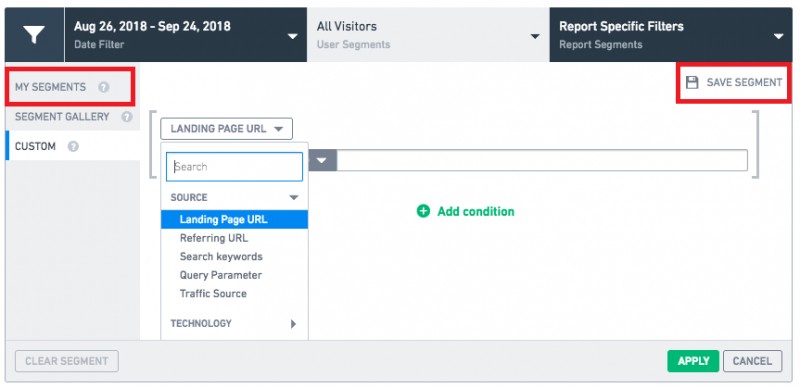 Procedure
Go to

All Visitors > CUSTOM

section on the report page.

Create a segment by adding conditions for the visitor segment you want to target.

Click

Save Segment

.




A dialog appears asking you to enter the name for your segments.

In the

Save Segment as

field, enter the name of your custom segment, and click

SAVE

.
Post-requisite
To verify if your custom segment is saved successfully, go to the MY SEGMENTS section and check for the one which you recently saved.
NOTE: 

You can edit or save new segments anytime.