Visitor Segmentation means to bucket your website and visitors or app users into different groups and categories. As a VWO user, you can define these segments by using various conditions like visitor type, the source from where they landed on your website, devices, locations, or behaviors. By using the segmentation options, you can slice and dice your website traffic to understand visitor behavior and get deeper insights into how they browse the website.
By using VWO, you can create and use visitor segments for data collection (presegmentation) as well as interpreting reports for a test or campaign (postsegmentation). To learn how to create your custom segments, click here.
Presegmentation: Before running a VWO campaign or tests, you can create and bucket website visitors into different segments based on their source URL, device, location, time, behavior,and other conditions. For example, you can create a segment for Facebook traffic by using iPhone devices, and visiting between XX – XX hours of the day.
Postsegmentation: After a campaign or test is run and visitor data collected, you can slice and dice the data reported to view how visitors from a specific traffic segment interacted with your website. For example, you can create a segment to view reports of New visitors from Europe by using Windows phone and who clicked Products tabs of your website.
Applying Presegmentation for Tests and Tracking Research
Using the pre-segmentation option allows you to collect data from a specific visitor segment during a website research or test. For example, you may want to track data for visitors landing on your website through Facebook or Google ads, or from a specific country, or based on a cookie value.
Please note that you can use Cookie value, JavaScript conditions, and IP Address conditions only for pre-segmentation. You will not find these options when using segmentation options to view the reports collected.
The pre-segmentation option appears while setting up a test or research tool for heatmaps, recordings, or personalization. For example, you may want to test or run research tools for visitors from a specific geography or source URLs or device types.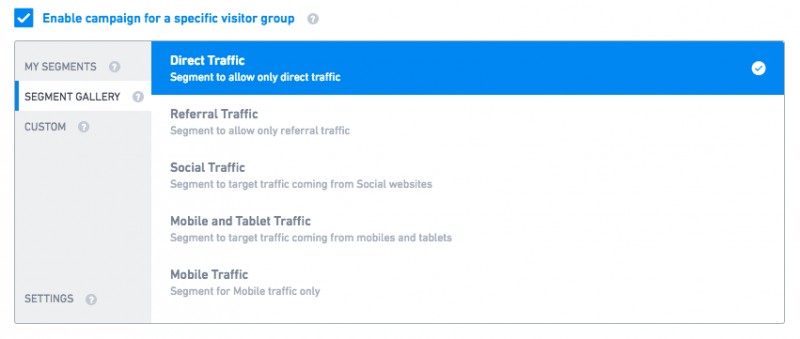 For research tools such as heatmaps and recordings, you can create Views to quickly check for visitor data on a given URL. Using views, you can define visitor segment URL details on a website to quickly access reports, without the need to define segments repeatedly.

Applying Postsegmentation on Test or Research Reports
To get a deeper insight into the website—for both test and research—data collected, you can slice and dice the reports to view visitor traffic from a specific segment. Understanding how different visitor groups behave on the website allows you to analyze what works best for a segment and what does not.
For example, you can view traffic only from visitors who click a specific CTA button to land on your target page.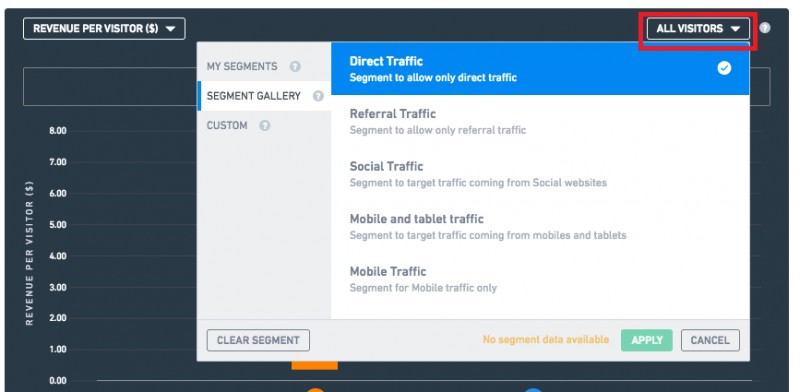 For visitor research, you can view data for associated tests, goal conversion, funnel drop-off, and other custom dimensions.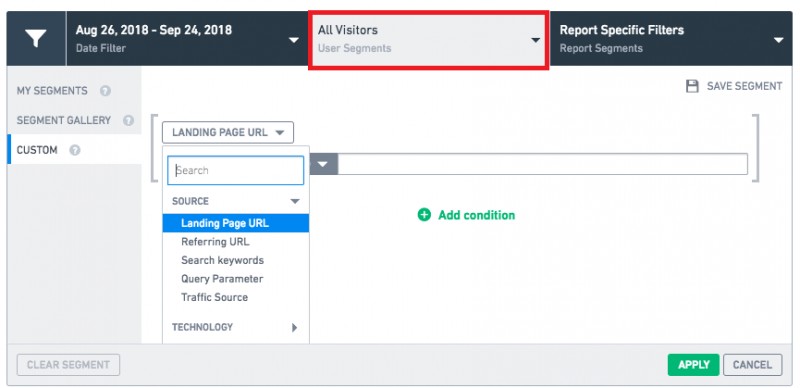 Saved Segments
To avoid task repetition, you can create and save your custom segments so that you can apply these again to other features in VWO. You can create a custom segment to target a specific audience and then save that segment for later use.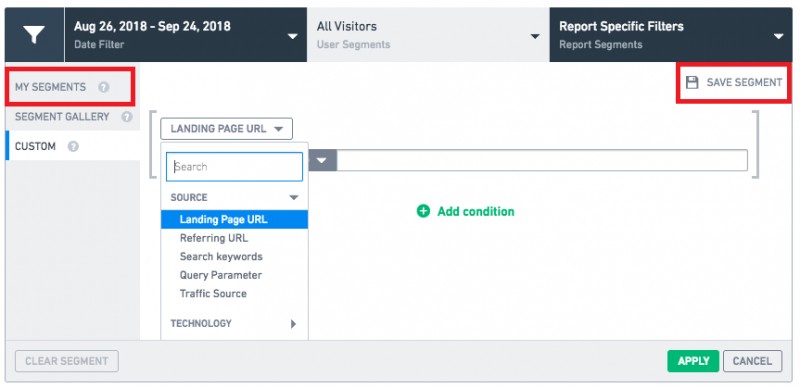 To create and save segments:
Select All Visitors on the report page.
Under the Custom tab, create your segment by adding conditions for the visitor segment you want to target.
Click Save Segment.
You can edit, delete, or save new segments anytime.