Using VWO, you can target specific visitor groups for each variation in your test. Targeting a variation to specific visitor segments helps you to customize content for different visitor groups. Use this feature to ensure that only those visitors who qualify as per the segment conditions will be able to access a specific variation.
For example, you can create a variation with custom promotional offers for the visitors accessing your website from one specific location, or certain hour of the day, and so on.
NOTE: If you have migrated to the Bayesian Statistical model, you can set up variation targeting only for 'Personalization'. The targeting option is not available for A/B tests.
PRO-TIP: If you have set variation-level targeting, the traffic percentage you specify will only apply after the segmentation rules. For example, if you have targeted Control for desktop visitors and Variation for mobile users, your website visitors will access the respective version based on the segmentation rules applied and not based on the traffic percentage set for each variation.
To target a variation to a segment, from the list of tests, select the test for which you want to set up variation targeting and follow these steps: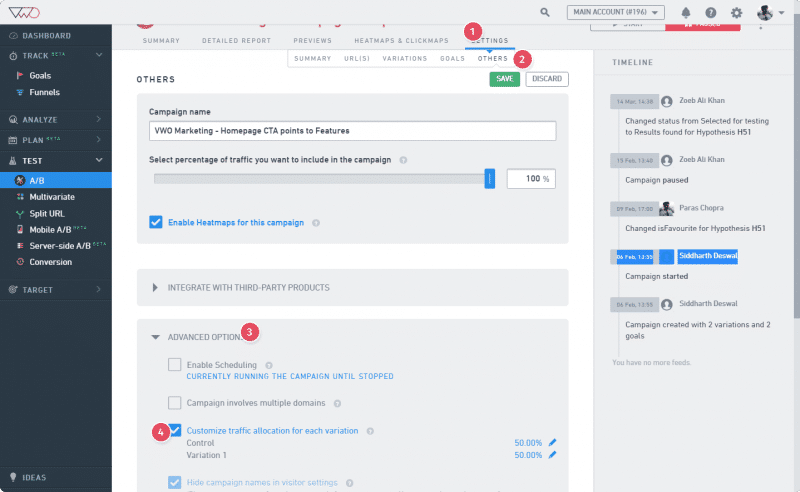 On the test details page, click Settings.
From the options under Settings, select Others. For personalization, select Targets under Settings.
Expand the Advanced Options section.
From the options available, select Customize traffic allocation for each variation.
From the names of all the variations that appear, click All against the variation you want to target.