The report of an A/B test shows the performance of different variations for the overall traffic of your website. To further analyze the test, customers often use report filters to view data for a particular visitor segment. In VWO, you can view a comprehensive report that allows you to compare two or more visitor segments in the same report.
For example, if you want to view the conversion rate of visitors from mobile and desktop, rather than opening them individually, you can now compare them. With this capability, you can add segments from Segment Gallery, My Segments, and even include one custom segment to the comparison.
Comparing multiple segments in a VWO test report enables you to visualize the subsets of your data in a single view. For example, your test might show that the variation in your test increases the conversion rate by 5%, but when you compare this number for new and returning visitors, you find that returning visitors like the original version better while new visitors appreciate the change. Or there could be a scenario where the test conversion rate is 2%, but when you segment your report on different traffic types- direct, referral, and social, you find that conversion rate from referral traffic is 8% while for social and direct, it is 0.2% and 0.4% respectively.
To compare segments in VWO, you must choose two or more segments from the following sections- Segment Gallery, My Segments, or Custom (to define a segment with specific attributes such as visitors landing on your page at a particular hour of the day). You can compare segments based on different criteria. Some examples of comparing criteria could be:
Traffic Type - Direct, Referral, etc.

Browser - Chrome, Safari, Firefox, etc

Device type - Desktop, Mobile, and Tablet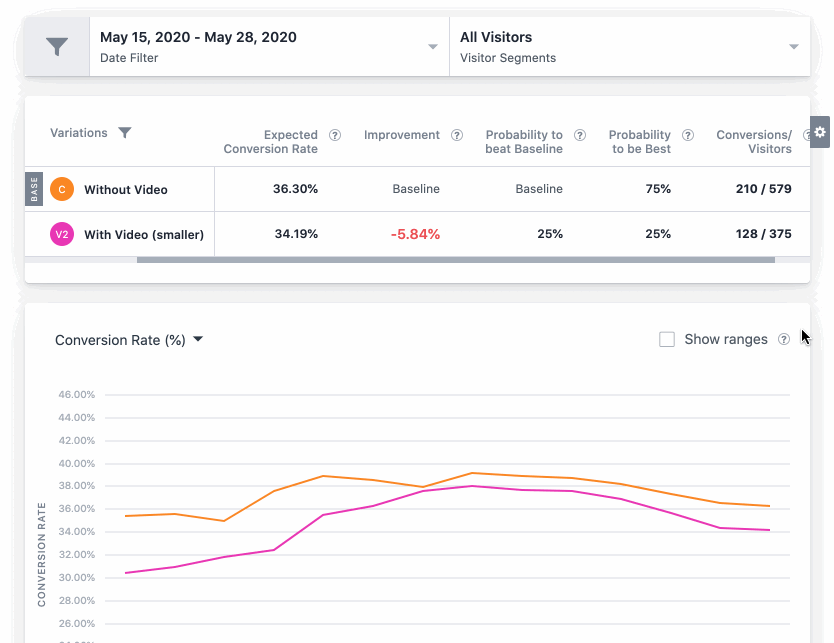 Some answers that you can get using compare segments in VWO
How different variations perform across segments,

What is the improvement of a variation over baseline across segments,

What is the overall conversion rate of each segment,

What is the overall size of each segment (say by traffic type - direct, referral, social, etc.) in the test?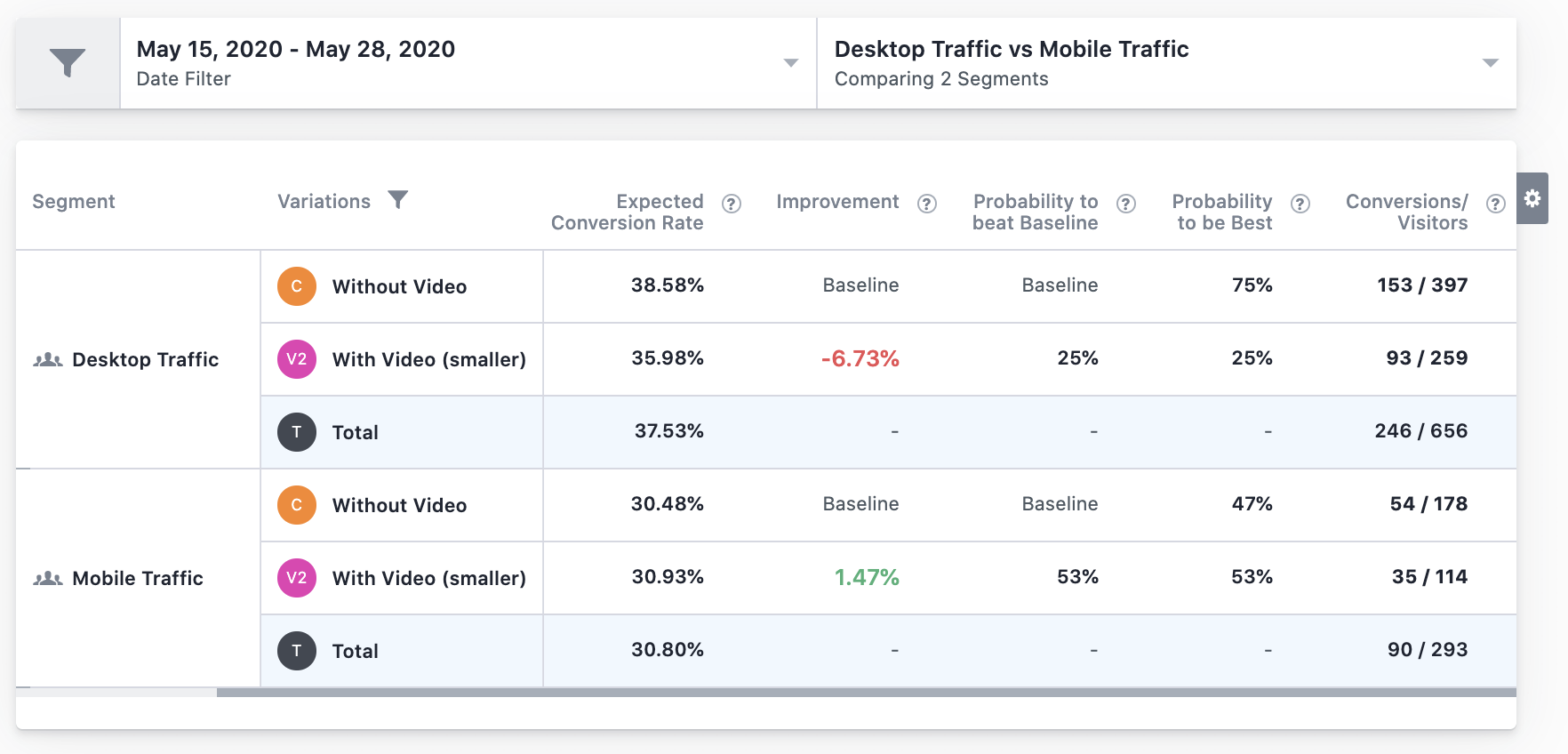 VWO also allows you to compare multiple segments and multiple goals in the same view. This adds a new dimension to the report, as shown in the screenshot below.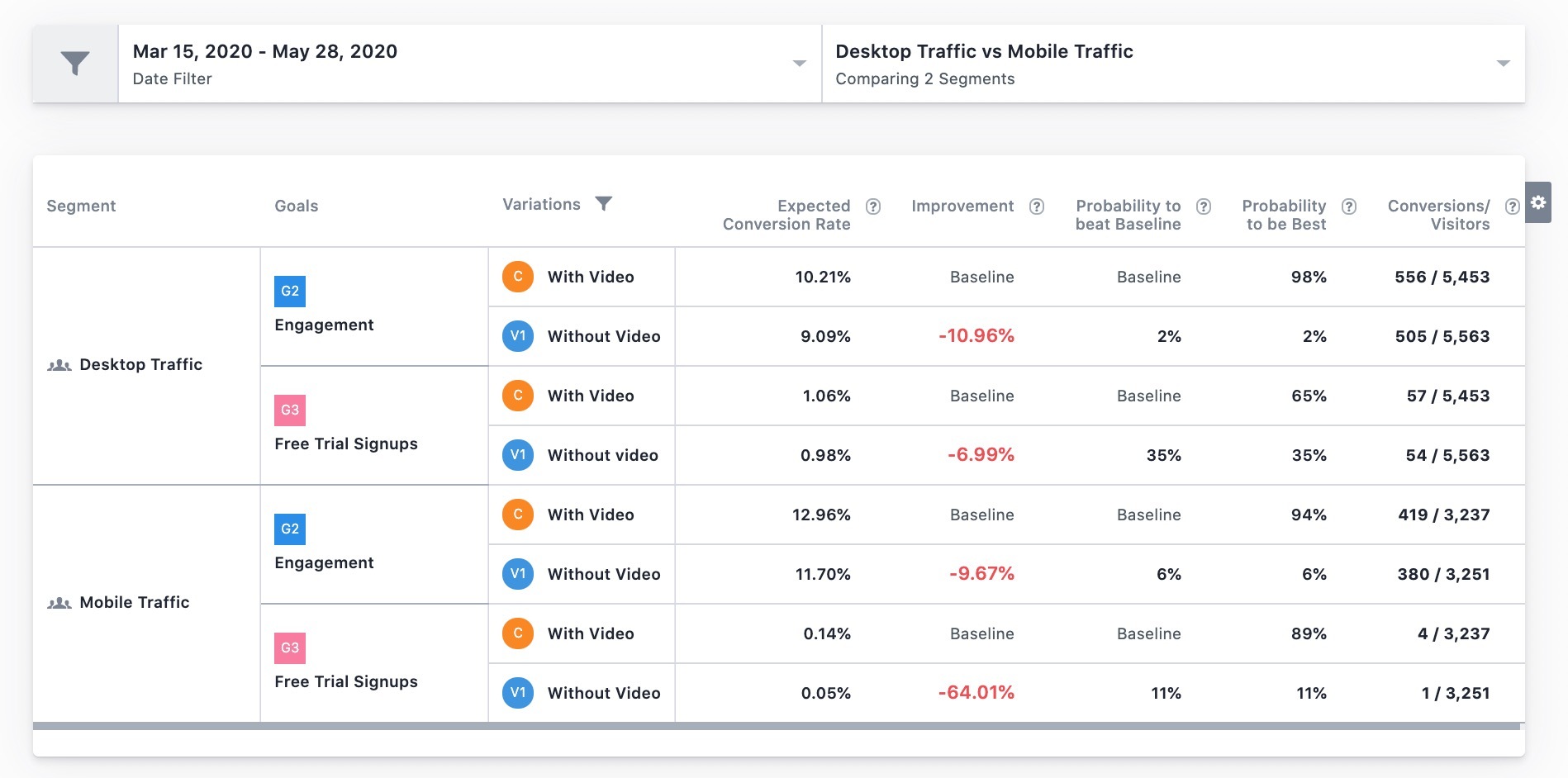 Things to Consider While Working with Segment Comparison in VWO
Currently, we display the stats in a table only. We will introduce a graphical comparison in future releases.

When you select a segment for comparison, the

All Visitor

segment gets selected automatically. You can remove it from the comparison as well.

At a time, you can only include a single

custom segment

for comparison; however, you can add multiple conditions in that custom segment. To apply multiple custom segments, you can save them as My Segments and compare them.

You can use the view settings option to change which metrics are shown in the table and to hide total row and disabled variations from the table.

This feature is available in the A/B test, Split URL test, Server-side A/B test, and Feature test.
Activating Segment Comparison in VWO
To compare segments in VWO, perform these steps.
Procedure
Login to your VWO account.

From the panel on the left, go to

TESTING

, and select a test type, say A/B.

From the test dashboard, select the test for which you want to view the report.

Go to the

REPORT

tab.

From the filters section, click on

Visitor Segments

dropdown.

To activate the segments comparison in VWO, select the compare checkbox corresponding to segment.



NOTE


1. As soon as you select a segment, the 

All Traffic segment also 
gets selected by default. To remove any segment from comparison, 
click on the cross icon with the selected segments that appear 
at the top of the segments list.



2. You can select any number of segments for comparison. 

If you wish to compare the goals along with the segment comparison in the same view, you can do so using the panel on the right. All you need to do is, click COMPARE GOALS

,

and select the goals you want to compare. With this, a new dimension is added to the report.

To view the report, click

COMPARE

.




NOTE: If you wish to remove any variation from results, click 
on the filter icon in the variations column header. You can 
hide the total row and disabled variations from view settings.