close this to read article
VWO Engage (formerly PushCrew) offers the feature to segment your subscribers using custom dimensions to target subscribers with more personalized and more engaging web push notifications. These custom dimensions will be mapped to the respective subscriber IDs and thus you will be able to send very personalized and targeted notifications.
NOTE: This feature is available in Pro and Enterprise plans only.
You can use up to 10 custom dimensions at a time. A custom dimension key can hold a maximum of 20 characters and each custom dimension value can hold a maximum of 50 characters.
How to use Custom Dimension in Segmentation?
Before you can use custom dimensions in Segments, you need to create those custom dimensions. Please visit Personalization for complete information on how to create a custom dimension.
Once you have created the custom dimensions, here's how you can use this feature on your VWO Engage account:
Login to your VWO Engage dashboard. Click on the Segments tab. Click on the blue 'Create' button to create a new segment.
Name your segment and under 'Properties', click on 'Add Condition' and select 'Custom Dimension'.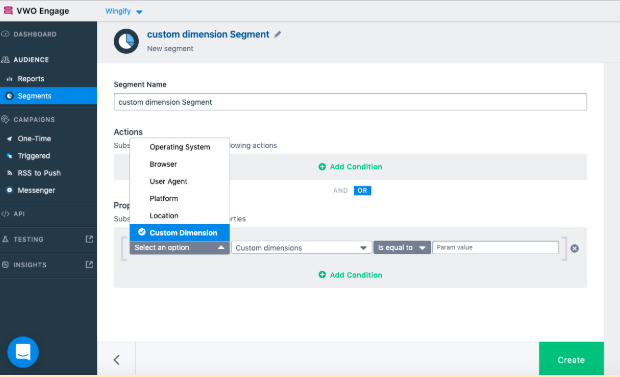 3. Select the custom dimension name using which you would like to segment your subscribers.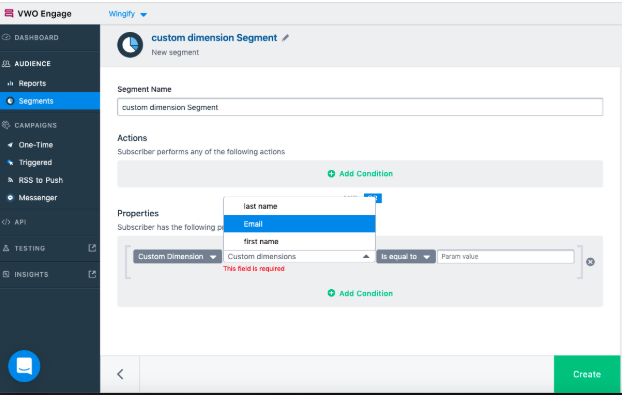 You can select 'is equal to', 'is not equal to', 'Is greater than', 'Is less than', 'Is greater than equal to' or 'Is less than equal to' operator as per your requirement.
Enter the value of the custom dimension in the 'Param value'. All the subscribers who meet the condition will be added to this segment.
How to apply custom dimensions as a segment when a specific value is not set?
Suppose you have created a custom dimension with the custom dimension name 'plan'. The value of the custom dimension is set to 'paid' when a subscriber purchases the product from your website. For the subscribers who do not purchase the product from the customer's website, the value of the custom dimension is undefined. Now how to segment the subscribers who do not have any specific value for the custom dimension 'plan'.
Select the custom dimension i.e. 'plan' and use 'Is equal to' operator. Enter 'null' (without quotes) in the value section.