close this to read article
Currently (For all versions of Google Chrome before version 63), when websites need special permission from the users, they trigger a permission request. However, for Chrome on Android, this permission request appears as an ignorable banner to the bottom of your mobile screen. This opt-in distracts the overall user experience for your website visitor & most of the times, the visitor ends up ignoring this permission request altogether.
From the current version of Google Chrome (version 63), this permission request for Chrome on Android will start appearing in the middle of the screen. This will make sure that the user either decides to opt-in for the permission request or opt-out, but they would be more unlikely to ignore the request totally.
VWO Engage (formerly PushCrew) has now launched a new feature wherein HTTPS-enabled websites that were serving a single-step opt-in can now choose to have a Two-Step opt-in if they wish to. By doing this, you could now build more context for potential subscribers by first showing them a customizable message (See the image on the left below) & then encourage them to click "Allow" notifications on the second opt-in prompt (See the image on the right below).
To enable Two-Step Opt-in, please follow the steps below :
Login to your VWO Engage dashboard

Click on Settings - Opt-in

You will see the options One-Step and Two-Step under "CHOOSE AN OPT-IN TYPE TO COLLECT SUBSCRIBERS" as shown in the screenshot below.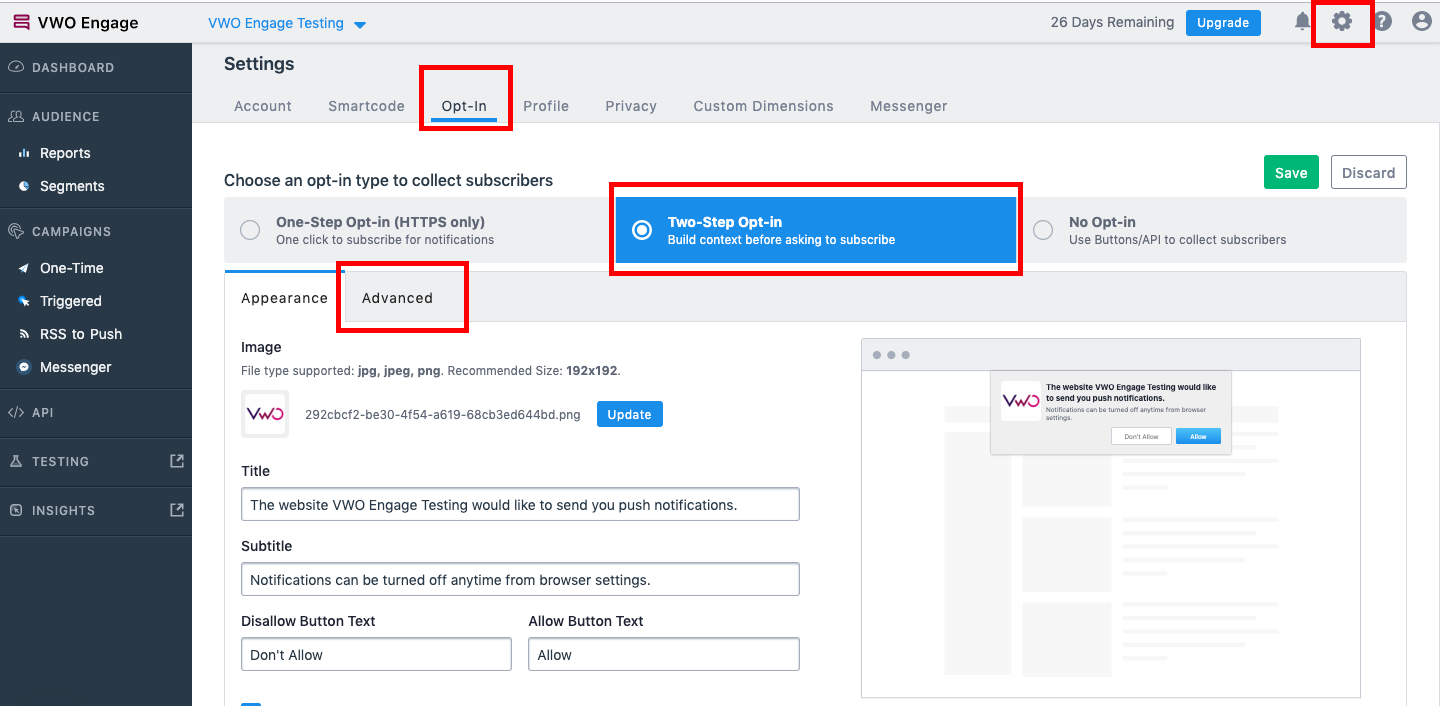 4. You can now customize the opt-in Title, Sub-title, button text etc and Save the changes.
Important points to note :
a) Existing HTTPS websites will stay on the one-step (default) native opt-in until they select two-step opt-in.
b) In case of new HTTP to HTTPS migrations, one-step opt-in will be enabled by default.
c) You can choose to disable default triggering of two-step opt-in as well and can also choose a number of seconds after which the opt-in should appear.
d) If you use the API to trigger the opt-in, the native opt-in will be triggered directly.