close this to read article
ATTENTION:
We have deprecated this feature, as Facebook Messenger has changed its APIs and has restricted its subscription messaging access. You will no longer be able to see the Messenger feature in VWO Engage.
Starting March 4th, 2020, Facebook made changes to its messaging policy for marketers. This Impacts the way VWO Engage sends out messages to its subscribers. To know more about the changes in Facebook messenger policy, refer to the Overview of New Platform Policy.
How Does This Policy Affect The Messenger Features of VWO Engage?
Let's have a look at the Messenger features of VWO Engage and how they are impacted.
Until March 3rd, 2020, using the Facebook Broadcast API, you could broadcast messages to all your subscribers. Subscribers here are the total users that have messaged your Facebook page bot directly or have opted-in through Engage. However, starting March 4th, 2020, the Facebook Broadcast API has been deprecated. As a result, the Promotional and Non Promotional broadcast features of VWO Engage are no longer available. However, you can still send the broadcast messages using the paid/sponsored messages service. Facebook Sponsored Messages are the ones you pay for and send out to your total subscriber's list. The message would also be sent to the people who have unsubscribed but not to the people who have blocked your page.
This policy change means that we can use VWO Engage to send only Direct Send messages to your Facebook subscribers. The Direct Send option allows you to send messages only to those subscribers that were active (interacted with your bot) in the past 24 hours.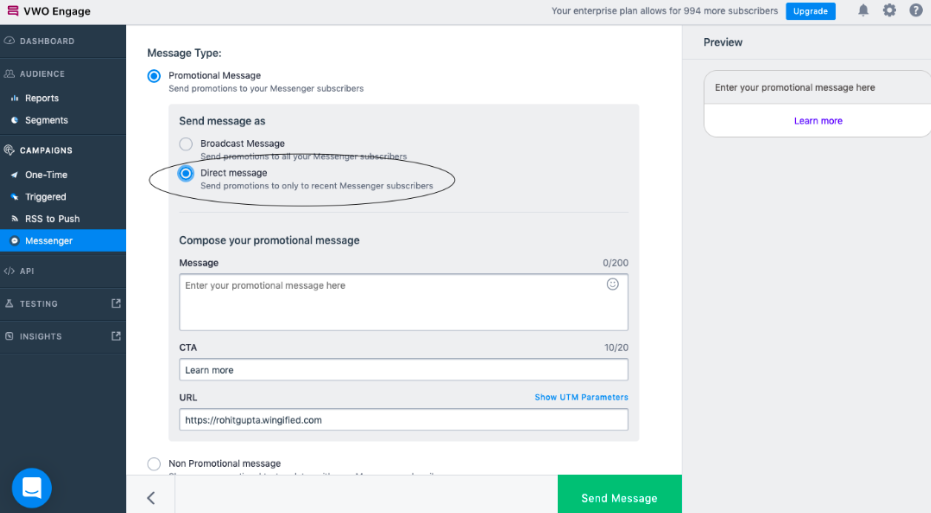 Some user actions that open the 24 hour Standard Messaging window:
A user sends a message to the Page
User clicks a call-to-action button as Get Started within a Messenger conversation
User clicks on a Click-to-Messenger ad and then starts a conversation with the Page
The user starts a conversation with a Page via a plugin, such as Send to Messenger plugin or the Checkbox plugin
User clicks on an m.me link with a ref parameter on an existing thread
User posts or comments on a Page. See Private Replies
User reacts to a message. See Replies and Reactions
You can see how the integration looks like in action here.

NOTE:
You can still send promotional/non-promotional messages using the Direct Send in Engage to users who were active with your page in the last 24 hours.
To know how to send messages outside the 24-hour messaging window, refer to
Message Tags
, and
Sponsored messages
.