close this to read article
An Accelerated Mobile Page (or AMP, for short) is a project from Google and Twitter designed to make really fast mobile pages. In essence, it's a stripped-down form of HTML, that loads your website faster on mobile browsers.
Note: AMP Feature is enabled only for HTTPS Implementation of VWO Engage.
How to Set Up VWO Engage on your AMP?
For all AMP pages on your site that you'd like to enable web push notifications, add the following script within your AMP page's <head> section to enable the components:

<script async custom-element="amp-web-push" src="https://cdn.ampproject.org/v0/amp-web-push-0.1.js"></script>

Configure the AMP Push Notifications extension by downloading the files below(right-click these files and select 'Save Link As...') and adding them to the root directory (/) of your website: i. amp-web-push-helper-frame.html
ii. amp-web-push-permission-dialog.html
Add the Code in your AMP site's <head> to initialize amp-web-push


<amp-web-push id="amp-web-push" layout="nodisplay"
helper-iframe-url="https://yourdomain.com/amp-web-push-helper-frame.html"
permission-dialog-url="https://yourdomain.com/amp-web-push-permission-dialog.html"
service-worker-url="https://yourdomain.com/pushcrew-sw.js"></amp-web-push>

NOTE: Replace 'YOURDOMAIN' with the domain where your users subscribe and ensure you enter the 'service-worker-url' path with the path of your service worker file(pushcrew-sw.js) placed in the root directory of your website
Then, add the below code in the <body> to show the Opt-in on your AMP Pages:

<!-- A subscription widget -->
<amp-web-push-widget visibility="unsubscribed" layout="fixed" width="250" height="48">
    <button class="subscribe" on="tap:amp-web-push.subscribe">
        <amp-img
                class="subscribe-icon"
                width="24"
                height="24"
                layout="fixed"
                src="data:image/svg+xml;base64,PHN2ZyB3aWR0aD0iMjAiIGhlaWdodD0iMjQiIHZpZXdCb3g9IjAgMCAyMCAyNCIgZmlsbD0ibm9uZSIgeG1sbnM9Imh0dHA6Ly93d3cudzMub3JnLzIwMDAvc3ZnIj4KPHBhdGggZD0iTTkuNTI1MjUgMjRDNy45Njg3NyAyNCA2LjcwNjIxIDIyLjczODYgNi43MDYyMSAyMS4xODA5SDEyLjM0MzlDMTIuMzQ0MiAyMi43Mzg2IDExLjA4MTcgMjQgOS41MjUyNSAyNFpNMTkuMDUxMiAxOC4zNTQyQzE5LjA1MTIgMTkuMzk2NiAxOC4yMDU4IDE5LjQ2NTEgMTcuMTY0MSAxOS40NjUxSDEuODg2MTFDMC44NDQwMjQgMTkuNDY1MSAwIDE5LjM5NjUgMCAxOC4zNTQxVjE4LjE3NDVDMCAxNy40MjQ5IDAuNDQwMjI4IDE2Ljc4MyAxLjA3Mjc0IDE2LjQ3ODVMMS42NzE1NiAxMS4zMDk2QzEuNjcxNTYgNy41MjU1MSA0LjM0NzYzIDQuMzY3MTUgNy45MTAyMiAzLjYyMjAxVjEuNjE1MzNDNy45MTAyMiAwLjcyMzMwNCA4LjYzMzUyIDAgOS41MjU5OCAwQzEwLjQxOCAwIDExLjE0MTMgMC43MjMzMDQgMTEuMTQxMyAxLjYxNTMzVjMuNjIyMTZDMTQuNzAzOSA0LjM2NzE1IDE3LjM4IDcuNTI1MjIgMTcuMzggMTEuMzA5N0wxNy45Nzg4IDE2LjQ3OTRDMTguNjExMyAxNi43ODQzIDE5LjA1MTIgMTcuNDI1MSAxOS4wNTEyIDE4LjE3NDdWMTguMzU0MloiIGZpbGw9IndoaXRlIi8+Cjwvc3ZnPgo=">
        </amp-img>
        Subscribe to updates
    </button>
</amp-web-push-widget>

 
<!-- An unsubscription widget -->
<amp-web-push-widget visibility="subscribed" layout="fixed" width="300" height="48">
    <button class="unsubscribe" on="tap:amp-web-push.unsubscribe">Unsubscribe from updates</button>
</amp-web-push-widget>

Add the styling for your widget using the CSS below:
<style amp-custom>
 amp-web-push-widget button.subscribe,
 amp-web-push-widget button.unsubscribe {
 display: inline-flex;
 width: 100%;
 align-items: center;
 justify-content: center;
 border-radius: 4px;
 border: 0;
 box-sizing: border-box;
 margin: 0;
 padding: 0 25px;
 cursor: pointer;
 outline: none;
 font-size: 16px;
 font-weight: 600;
 background: #3D7CF5;
 color: white;
 height: 48px;
 line-height: 48px;
 } 
 amp-web-push-widget button.subscribe .subscribe-icon {
 margin-right: 16px;
 }
 amp-web-push-widget button.unsubscribe {
 background-color: #fff;
 border: 1px solid #D9DDE1;
 color: #788290;
 padding: 0 40px;
 }
</style>
After you have completed the above-mentioned steps, VWO Engage will be live on your AMP pages. Your visitors will be shown a Two-Step Opt-in to become a subscriber:
First Step: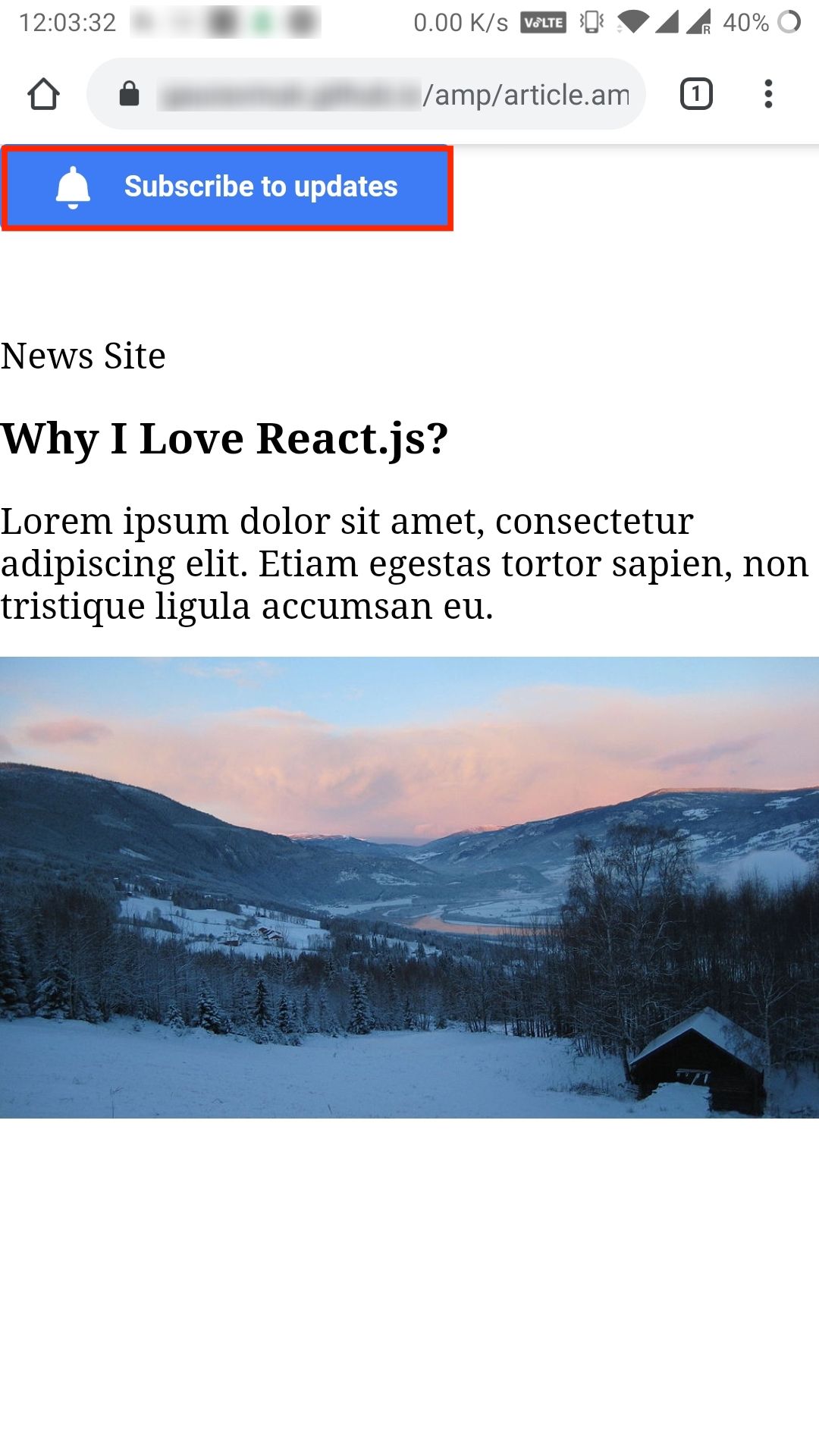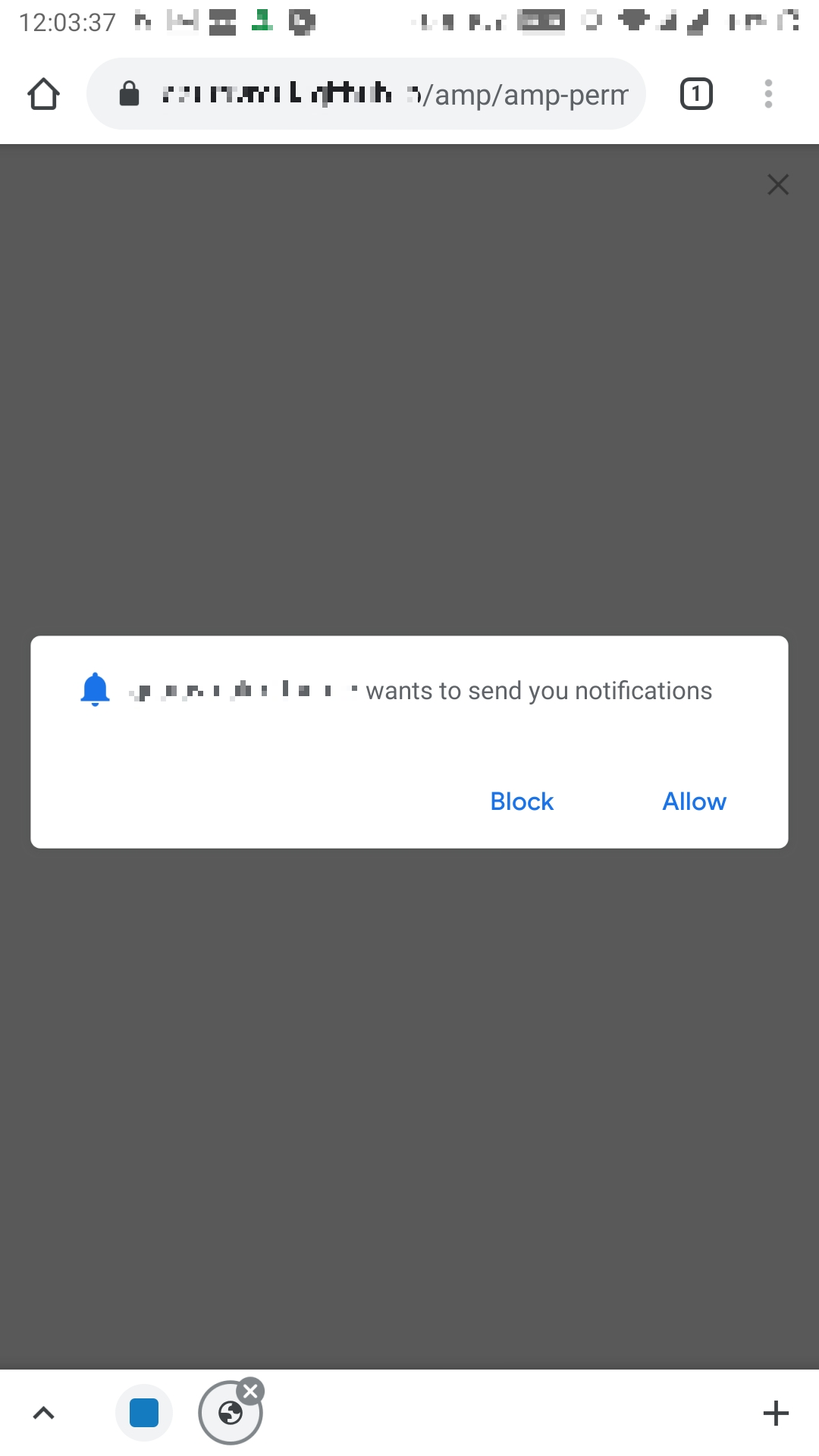 In case of any further queries on setting this up, get in touch with support@vwo.com and help will be on its way :)