You can view live changes on your website in real-time using VWO Live Previews option. To preview the test pages, select the report and then go to the Previews tab.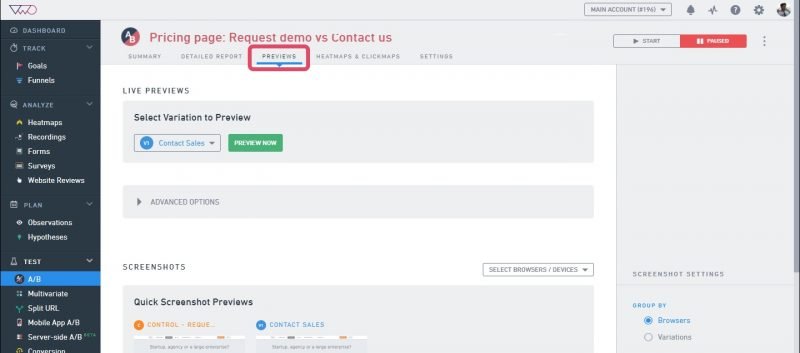 However, if you want to check the implementation on the live site, you can use the segmentation option by targeting the live campaign to yourself. Please note that IP address segmentation option is available only for Enterprise customers.
Create segment for your own IP address: Create a custom segment using your IP address. In the segmentation gallery, select Custom and select IP address as the segment parameter. Then, select Is Equal to option and them enter your actual IP address.
Create segment using Query Parameter: Create a segment using any random query parameter and then open the campaign which has the query parameter appended. For example, if the campaign is running on http://example.com, then add abc as and the value Is Equals To. You can then check the URL http://example.com?abc=1. In general, the base URL opens fine with query parameters as well.
Add Cookie: You can use a random cookie and its value in the segmentation. Then create the cookie on the campaign URL using any cookie related browser plugin and refresh the page. An example of such browser plugin is here.
Allocating Traffic Percentage
By default, VWO assigns 50% chances for both control or variation to appear on visitor browser. To record visitors by the above segment conditions, you must visit the test URL multiple times using Incognito windows. As you refresh the pages, VWO will record the visit as a new user everytime you refresh the page.
Alternately, you can simply test by allocating 100% traffic to a specific variation you want to test. You can later reallocate the traffic distribution after the testing is complete from Settings > Others > Advanced Options section:

This can also be verified by checking variation cookies in the browser. There is a specific cookie called _vis_opt_exp_ID_combi, that gets created whenever a user becomes part of a campaign. The value of this cookie is 1 for control, 2 for variation 1, 3 for 2 and so on. You can check the value of this cookie in your browser after disabling the control.