In this article, you'll learn:
ATTENTION: This integration experience is only available for customers 
who have the new INTEGRATIONS section enabled in their VWO account. 
The Integrations section is being rolled out in phases and will soon 
be available to all VWO customers.

If you do not see the INTEGRATIONS section in your VWO account yet, 
please contact support@vwo.com to get it enabled for your account.
AT Internet provides advanced analytics for websites, mobile pages, and intranet helping clients to optimize their digital performance. If you use the AT Internet Analytics suite on your website, you can integrate with VWO to create and run tests on your website and mobile sites.
With the integration, you can view reports and analytics details for your website visitors who became a part of your VWO tests. Integrating AT Internet with VWO is a two-step process.
Enabling the VWO-AT Internet Integration for Your VWO Account

Viewing the results in the AT Internet dashboard
Enabling the VWO-AT Internet Integration for Your VWO Account
To enable the VWO-AT Internet integration for your VWO account, follow this:
Procedure
Log in to your VWO account.

From the left panel of your VWO dashboard, go to the

INTEGRATIONS

tab.

Click on the

AT Internet

integration and enable it. Once enabled, the AT Internet screen within the VWO's Integration section looks like this:


Once the integration is enabled, you can choose to send VWO experiment data to AT Internet at a campaign level. By default, the AT Internet integration is enabled for the new VWO testing campaigns.
If you wish to enable the AT Internet integration for your existing campaigns, you can edit your campaign settings as shown below.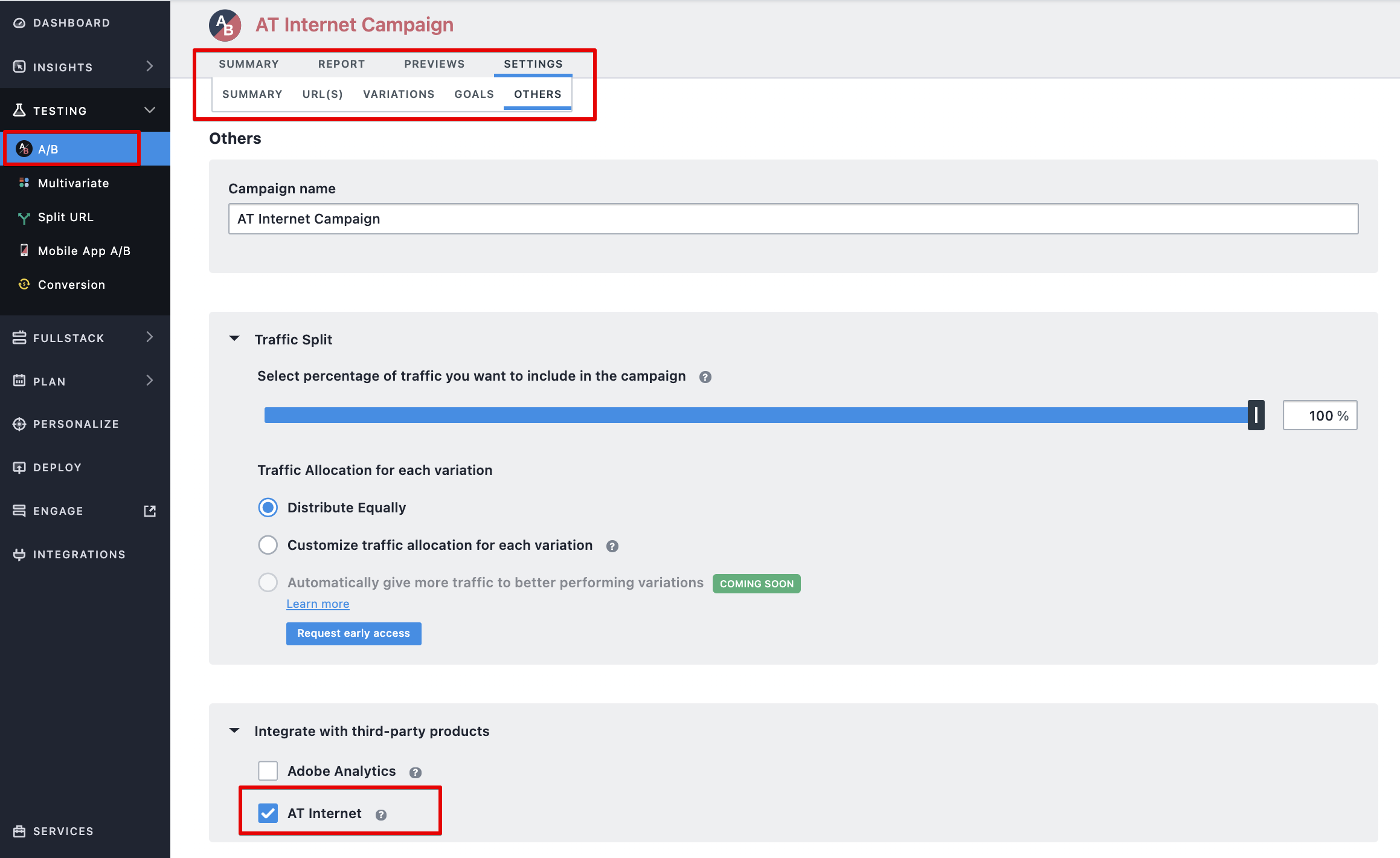 NOTE: Ensure that the AT Internet option is enabled in the Integrate with 
third-party products section.
Viewing the Results in the AT-Internet Dashboard
After adding the tracking code, check the TEST (MVTESTING) and CREATIONS (MVTESTING) dimensions inside the AT Internet reports dashboard. The TEST(MVTESTING) dimension will have VWO_Test_ID_# (where # is the test Id).
Under the CREATIONS (MVTESTING) dimension, you will find the variation names displayed for the visitors inside the test. For example, VWO_Test_ID_24 has two variation names corresponding to it.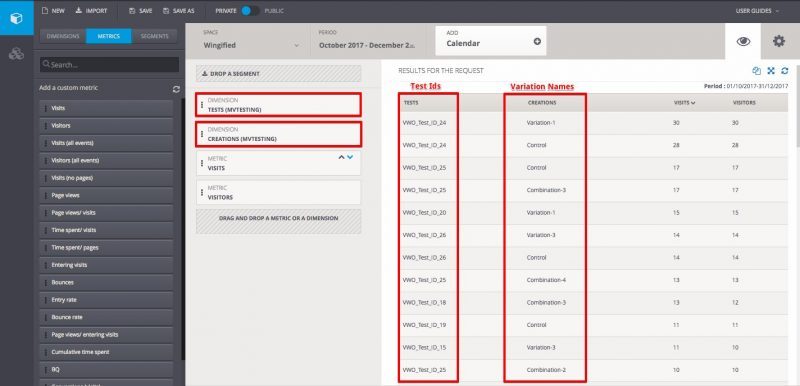 Locate Your VWO Test ID
Procedure
Login to your VWO account.
Go to the relevant testing dashboard and select the test for which you want to view the ID.
From the SUMMARY page of your test, go to SETTINGS >SUMMARY.

To view the Test ID, scroll down to the OTHER INFORMATION section of the page and check for the CAMPAIGN ID.