close this to read article
In this article, you'll learn about the following migration types offered by VWO to migrate from Google Optimize to VWO:
Now, migrating your data from Google Optimize to VWO is just a few simple steps away. By migrating your data to VWO, you will also be able to retain your Experience settings from Google Optimize to continue optimizing your platform seamlessly in VWO.
Migration Types
VWO provides you with two ways to migrate data from Google Optimize.
Automated (Recommended) - To facilitate the complete transfer of data, including the Experience setup and the corresponding values.
Manual Field Mapping - To manually map the fields in Google Optimize and create campaigns in VWO.
Automated
Automated migration has the power to do all the field mapping and process the data transfer from your Google Optimize account to VWO automatically in one clean sweep.
ATTENTION: There are certain practical limitations when it comes to the automated mode of migration.
The following table highlights the areas that will not be included in the migration process:
Category
Limitation
Behavioral Targeting

Time since first arrival
Metro under Geography
Mobile device info
Google Analytics audiences
Google Ads audiences

Experience Types

Advanced redirect under redirect test

Users
Container-level accesses
Others

Multiple page flow
Activation events
Schedules of scheduled experiences
Perform the following steps in Google Chrome to migrate your data from Google Optimize to your VWO account:
Click here to access the plugin for automated migration.
Click on Add to Chrome to add the extension to the browser.
In the confirmation popup that appears, click on Add extension.

Upon successful addition, you'll be able to see the following notification:

Now, click on the Extensions icon > Migrate from Google Optimize to VWO.


On the VWO Data Importer popup, click on Get Started > Start Migration to initiate migration.



NOTE: In order to facilitate the migration, you'll be required to log in to Google Optimize and VWO.

Select the data corresponding to your Google Optimize account that you require to be migrated to VWO.


By default, the data will be migrated to your main workspace in VWO. Should you require migrating them to any other workspace, you may configure it by selecting the appropriate workspace from the Workspace dropdown at the top right.

Once done, click on Import to VWO. It will trigger a confirmation popup requiring your permission to store your data from Google Optimize in VWO servers. We recommend you go through the terms and conditions to understand how we process your data, liabilities, charges, and other details. To grant permission, click on PROCEED.


You will be notified about the import status alongside each of the data. Once the migration is complete, you can click on Launch VWO to embark on a faster and enhanced optimization journey with VWO.

Refer to the following comprehensive video on how to use the automated migration plugin: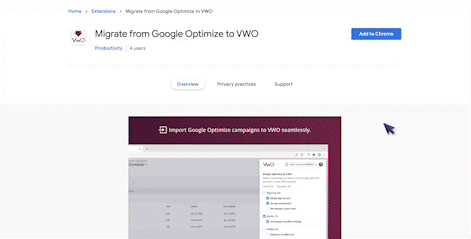 Manual Field Mapping
Using the manual field mapping mode, you can map the fields in Google Optimize and use the same in VWO to create and execute campaigns. Before doing that, you will need to understand the relevance between the modules and the fields in both applications, which can ease the process of mapping for you.
What is called an Experience in Google Optimize is called a campaign in VWO. Unlike Google Optimize, which brackets all of the Experience types under a blanket, VWO has them as individual modules, i.e., the campaign types such as A/B Test, Multivariate, Split URL, and so on. In VWO, before specifying the URL on which you want to run your campaign, you need to choose the module. The type of Experience in Google Optimize is the type of campaign in VWO.
The Experience Types available in Google Optimize are available in VWO in the form of modules that are categorized based on their purpose, as follows:
Testing

To experiment with a change on your website. It features the A/B, Multivariate, and Split URL test campaigns.

Personalize
To deliver personalized experiences to targeted visitors. Refer to this article to learn how to create a Personalize campaign in VWO.
Banner Template

To quickly deploy a promotional banner without experimentation.
To replicate the Banner Template experience of Google Optimize, you can create a Deploy campaign in VWO, wherein you can use the Promotion banner widget from VWO Widgets in the Visual Editor.
After selecting the module in which you want to create your VWO campaign, you can follow the steps mentioned in the corresponding articles to create and execute the campaign.
The entire process of creating a campaign is generally divided into sections based on what you will configure. These sections may vary depending on the state of your account enabled with Data360.
Data360 offers extreme flexibility in creating and managing custom attributes, events, and metrics, using which you can gauge any parameter on your website. You only need to configure these once and keep using them across as many campaigns as you require. Read through this article to learn more about Data360 and its applicability.
If your account is enabled with Data360, you will be able to find a slew of features under the Data360 module from the main menu panel on the left. The module will include an Introduction to Data360 followed by Profiles, Attributes, Events, Segments, Metrics, and Audit. Apart from that, you will also see Pages under Configuration. If not enabled, you will only get to see the introduction.
For Non-Data360 Accounts
For VWO accounts that do not have Data360 enabled, the campaign creation flow is as follows:
URLs
As the first step, you will have to define the pages on which you want to execute your campaign and the one you want to use to apply the modifications using the VWO visual editor and preview the same.
NOTE: For a Split URL test campaign, you will be able to create variations by specifying the URLs on which you want to apply the modifications.
In this section, you will also get to target the visitors for your campaign. In VWO's lingo, segmenting or targeting visitors for your campaign is called Pre-segmentation. Pre-segmentation is a type of segmentation in VWO. Refer to this article to learn more about segmentation in VWO.
Refer to this article for a detailed mapping of the URLs and Targeting.
Variations / Combinations / Experiences
Next up, based on the type of campaign, you get to create the changes to your web pages. These changes are called Variations for an A/B test, Combinations for a Multivariate test, and Experiences for a Personalize campaign.
You can apply the changes to your web pages directly using VWO's visual editor, which comes with a variety of options that are explained in this article.
NOTE: This step is not applicable for Split URL test campaigns.
Refer to this article for a detailed mapping of the fields in the Visual Editor.
Targets
This step is exclusive to Personalize campaigns, in which you will be able to apply pre-segmentation for individual experiences. For situations wherein a visitor qualifies for more than one experience, you can use the Tiebreaker for Multiple Qualifications section to narrow down the selection. Read this section to understand more about Targeting an experience in a Personalize campaign.
Goals
Every campaign in VWO is goal-driven. Goals in VWO are nothing but the Objectives that you get to configure in Google Optimize. Goals represent the reason behind which your campaign is executed. Here, you get to choose the goal and specify the URLs of the web pages on which you want to track the goals. Refer to this article to know about the different kinds of conversion goals that you can avail for Testing and Personalize campaigns.
Refer to this article for a detailed mapping of the fields pertaining to Objectives.
Duration
For a Multivariate test campaign, you will be able to estimate the duration of your campaign. VWO, by itself, provides you with an estimate of the expected duration for which your campaign will be required to be executed. However, you can specify parameters such as expected conversion rate, the volume of visitors, and the like to configure the duration for your campaign to keep executing. This article describes more about estimating the duration of your multivariate campaign.
Others
Finally, you need to configure the advanced options for your campaign. This will include configuring the percentage of traffic to be included in the campaign and configuring the integration of your VWO account with third-party platforms to enable the inbound and outbound transfer of campaign data along with other options. To know more, refer to Finalizing Your Test in VWO.
Refer to this article for a detailed mapping of the fields corresponding to Experience Settings.
Reporting
Once your campaign is executed, VWO starts collecting data from the same and populates the results under the Reports tab. You will see the reports for every individual campaign in their respective module. Read the following articles to understand how to interpret the reports for each of the campaign types:
For Data360 Accounts
The campaign creation flow does not change for accounts that are enabled with Data360. Indeed, the core difference is the ability to apply advanced features during the process. Therefore, instead of URLs, you will find Pages, you will be able to apply custom segments built using custom events and attributes for targeting visitors, and in the place of Goals, you will find Metrics. The rest remains the same. Let's take a better look at the differences:
Pages
Using Pages under Configuration, you can predefine the URLs that you would be using across campaigns in VWO. You can specify a bunch of URLs and save them as a Page in VWO. You will also need to include the default editor URL, on which you will be able to apply and preview the changes.
The Pages section in your campaign creation phase will allow you to select a Page from your repository or just specify the URL(s) on which you want to run your campaign. In fact, you can also append or obviate a URL or a Page from the selected Page using the Include page or Exclude page options.
To define the audience, like stated here, you can use the Pre-segmentation feature of VWO. What's more here is that you will be able to use your custom events and attributes to define your custom segments or use the Segments under Data360 to create custom segments using custom attributes and custom events. These pre-created custom segments are available under My Segments.
NOTE: For Split URL test campaigns, the Pages section will not be applicable. However, the Data360-based custom segmentation can be availed.
Metrics
Like the Objectives in Google Optimize, Goals are event-based. With Goals, you will be able to choose from system-defined events. Metrics function the same way as Goals, but they are more advanced than Goals. Using Metrics under the Data360 module, you will be able to use the custom events to construct Metrics to be tracked in your campaign. While creating your campaign, the Metrics section allows you to choose a pre-created Metric or create one from scratch.
Glossary
The following table presents you with fields present in Google Optimize and their corresponding ones in VWO:
| | |
| --- | --- |
| Optimize Terminology | VWO Terminology |
| Redirect Test | Split URL Test |
| Personalization | Personalize |
| Experience | Campaign |
| Page Targeting | URL Targeting |
| Editor Page | Default Campaign URL |
| Audience Targeting | Pre-segmentation |
| App Bar | Editor Dock |
| Variant Menu | Variation Panel |
| Changes | Modifications |
| Interactive Mode | Navigate Mode |
| Editor Pallet | Editor Options Panel |
| Objective | Goal (for non-Data360 accounts) / Metric (for Data360 accounts) |
ATTENTION: To continue using VWO for your experimentation purposes, you must install the VWO SmartCode on your website. Refer to this article to learn about the VWO SmartCode and the steps to install it.